More than half of inmates at the Otago Corrections Facility are double bunked, new figures reveal.
Meanwhile, a recently released prisoner, Eru Karetai, says an atmosphere of hostility increasingly prevails at the  facility, as hardened gang members from the North Island are sent south due to overcrowding.
Corrections denied any increase in threatening behaviour at the prison, but acknowledged a steady rise in the number of gang members behind bars nationwide.
The number of inmates at the Milburn facility reached 522 in March last year, nearly double that of a decade ago, according to figures obtained under the Official Information Act.
The most recent data shows 334 prisoners were sharing a cell on June 30, more than half of the 506 inmates at OCF that day.
One year after its opening in 2007, the prison had a capacity of 305 and hosted 267 inmates.
Corrections acting national commissioner Ben Clark, of Wellington, said the nationwide prison population had grown significantly in recent years, and by more than 20% between 2015 and March 2018.
It peaked at 10,820 in March last year, of whom 522 were locked up at OCF, before declining to 9782 (483 at OCF) by the end of the year. Stats NZ figures show New Zealand has the seventh-highest incarceration rate in the OECD, at 155 per 100,000 people, just below Mexico.
Mr Clark attributed part of the decline in prisoner numbers to the High Impact Performance Programme, a cross agency response that is part of the Government's commitment to reducing the prison population by 30% over 15 years, and addressing the over-representation of Maori in the criminal justice system.
Prisoners were assessed before being double-bunked on their suitability to sharing a cell, based on factors including their gang affiliation, history of violence towards others and "physical characteristics", he said.
Last year, it was reported 674 double-bunked prisoners nationwide had previously been convicted of, or were serving time for, a sexual offence, and Mr Clark said having a sexual conviction did not necessarily preclude a prisoner from being double bunked.
When it opened in 2007, OCF was designed to house prisoners in single rooms, but it was retrospectively redesigned to be double-bunked.  As of December 31 last year, it had room for 547 prisoners.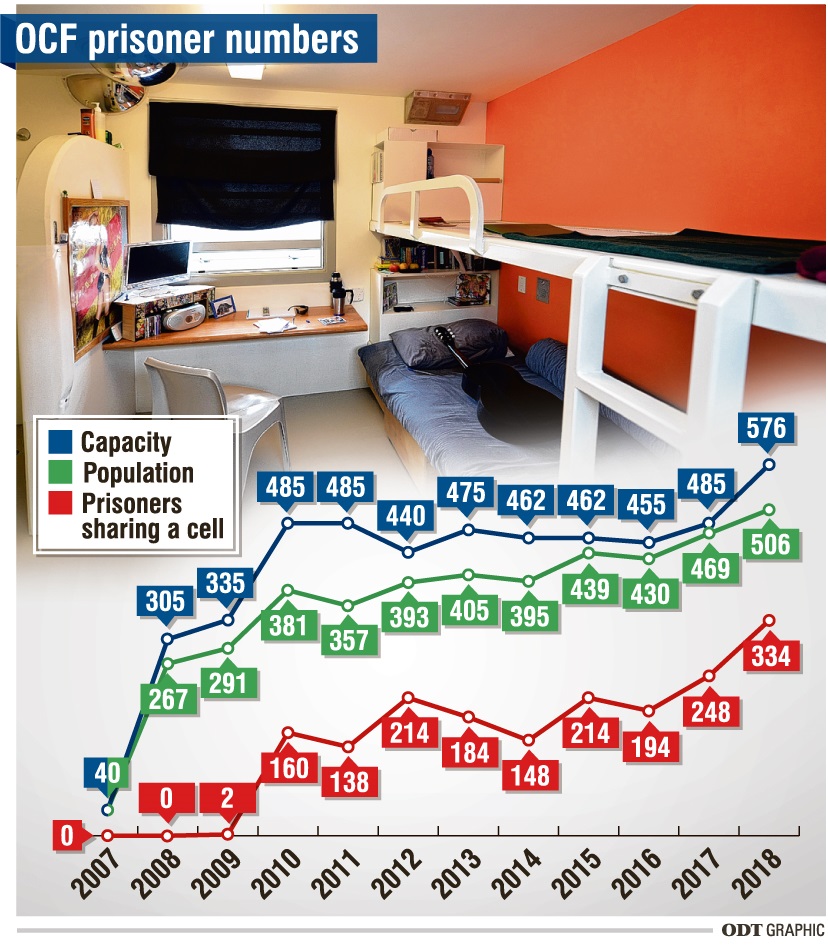 Dunedin writer Eru Karetai is a former prisoner who has frequently double-bunked at OCF. Between his first imprisonment five years ago and last year, the 26-year-old said he had noticed an influx of inmates from Christchurch and the North Island.
The arrival of hardened gang members from up north following muster blowouts had created tensions in a facility formerly populated by southerners, he said.
"It's become more hostile for a bunch of people.
"Now with the North Island prisoners in there, people are walking on egg shells."
Corrections chief custodial officer Neil Beales, of Wellington, said there was no evidence of a significant increase in threatening behaviour at OCF. However, he acknowledged the proportion of gang members in prison had steady increased over the past three decades, to the point where about 30% of inmates were now affiliated with a gang.
Mr Beales said OCF had recently finalised a new "gang engagement and management plan", including an anti-bullying strategy.
Mr Karetai said living in constant close proximity to a cell mate can be tough for other prisoners, but he managed to get by and stay out of trouble.
Since his release last October,  he was trying to re-establish himself as a writer, and was working on several books.
In 2015, he self-published a novella called The Link is Broken.
He has completed a full-length novel, Behind Closed Doors, touching on how to break the cycle of domestic violence, but was awaiting funding for publication.
"I'm trying to re-establish myself as an author and create a better lifestyle."