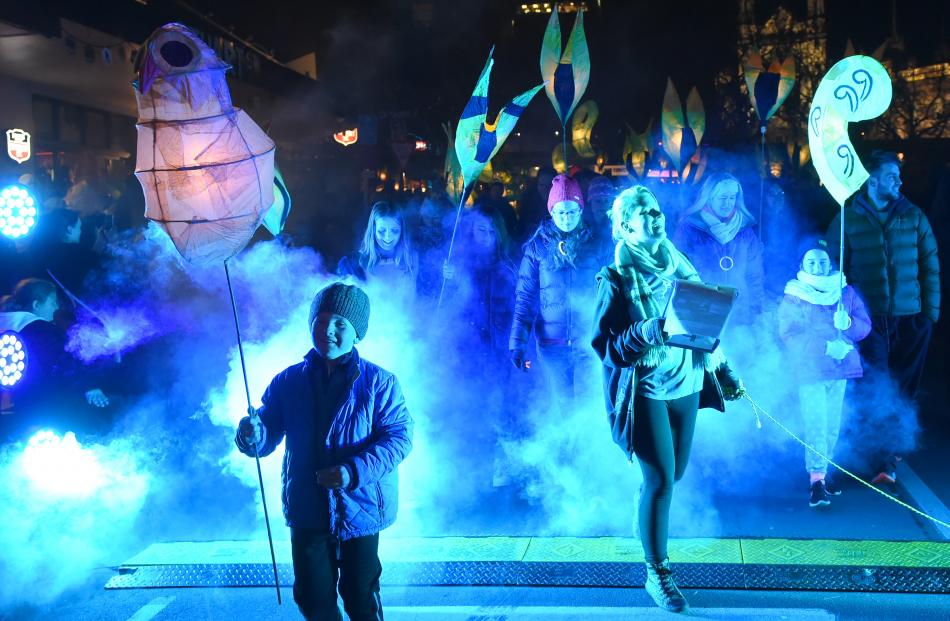 The wild things came out to play in the Octagon as luminous nocturnal creatures invaded the Dunedin Midwinter Carnival.
Children and adults alike were in awe as eagles, kiwi, weta and moa lanterns were carried around the Octagon on Saturday, starting at 6pm.
Little owl lanterns carried by flocks of children outnumbered the rest.
The carnival also featured some of New Zealand's fauna.
Dunedin Midwinter Carnival spokeswoman Dallas Synnott said this year's event, which had a nocturnal nature theme, went ''really, really well''.
''It couldn't have gone better.''
A highlight of the night was the ''perfect'' weather.
''It was remarkable - it was still and clear - and not too freezing.
''It was beautiful.''
Those feeling the cold could warm themselves near the braziers scattered around the Octagon.
Between 17,000 and 20,000 people came to celebrate the carnival's 20th anniversary.
The carnival team were unable to obtain a permit for a fireworks display because of the injury to a man at a display in the Octagon on New Year's Eve.
The fireworks were replaced with a post-carnival performance by Taiko drummers and fire spinners on the lawn in the upper Octagon.
''That was a really cool ending to the procession - they were brilliant,'' Ms Synnott said.
Plans were in place to double the procession route next year.
''It will be very exciting and there will be a lot more room for people to spread out and for everyone to get a great view.''
-Additional reporting by Vaughan Elder