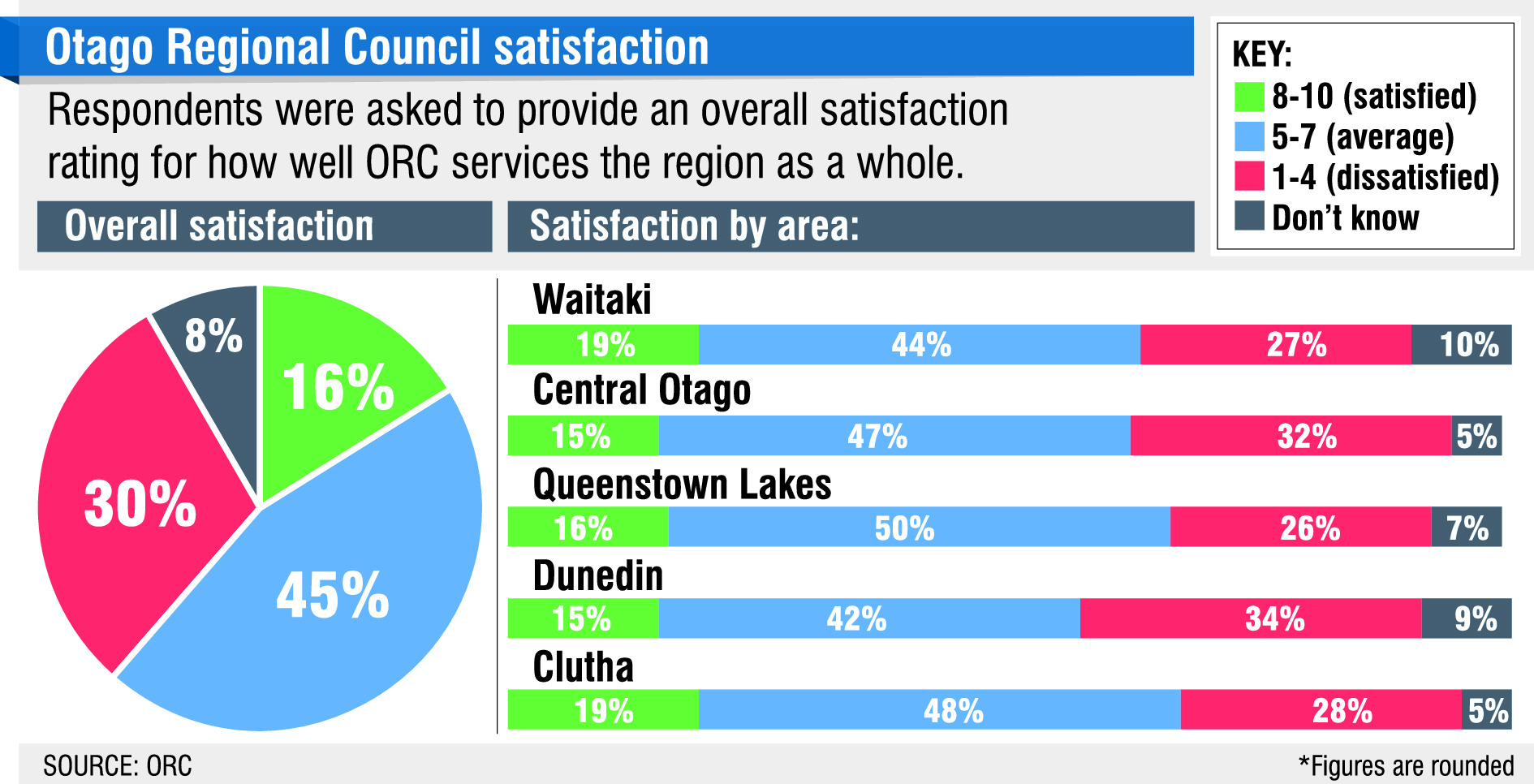 The Otago Regional Council's performance is widely perceived to be unsatisfactory, a survey has shown.
The survey of 1700 people across Otago highlighted infighting among councillors and some lack of understanding about the council's role.
However, public transport was a bright spot and many people identified water-related issues as a key area of debate.
Overall satisfaction was relatively low.
''This appears to be driven by perceptions of poor value for rates and also the poor functioning of the council,'' a report for councillors said.
The survey, the first since 2016, was carried out in September and will be considered by councillors this week.
Versus Research recommended to the council that it demonstrate clear links between the environment and its role, say how it protected the environment, broaden its communication and ''manage perceptions of infighting'' among councillors.
Council chairman Andrew Noone said it was important to acknowledge community concerns that emerged through the data.
The council's responsibilities had grown, he said.
Mr Noone said perceptions of infighting could result from different philosophies and personalities, but debate was a good thing.
''The survey will be invaluable for us as a benchmark in future, as we continue to ramp up our work programmes and be more visible working for the environment throughout Otago.''
The survey is to be repeated annually.
Council regulatory and communications general manager Richard Saunders said it would provide a benchmark for improvements.
''The data includes some positive results for us as an organisation, as well as highlighting the areas where we need to focus our improvement and engagement in the future.''
Unprompted, 75% of respondents identified the Otago Regional Council as the organisation responsible for managing Otago's natural resources, which was a positive result, Mr Saunders said.
''It's pleasing to see good awareness of the ORC's environmental role, and particularly our work in relation to water, although other parts of our core function were not as well understood.''
Public transport received the highest satisfaction rating of any service.
Of respondents who had used the bus service in Dunedin or Queenstown, 61% rated it at least eight out of 10.
Overall, 16% of respondents rated the council at least 8 out of 10, 45% scored it in the 5-7 range and 30% had it in the 1-4 range.