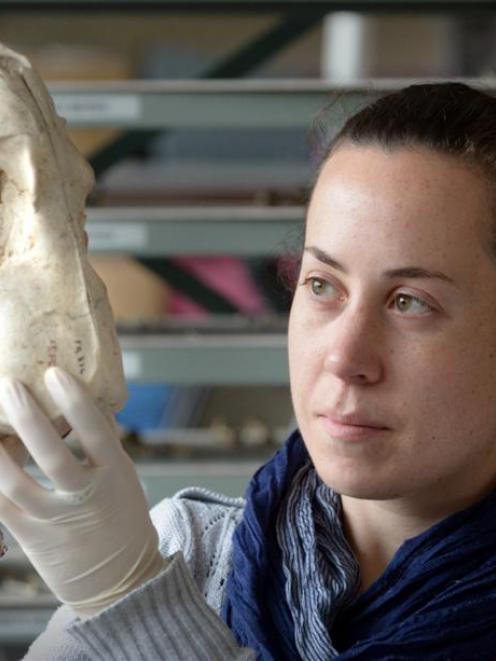 Comparison of DNA from ancient and modern sea lion bones has proved the sea lions which roamed New Zealand's coasts centuries ago were genetically different from the subantarctic sea lions which are recolonising Otago's coastline.
While it had been thought these earlier sea lions were of the same species as those now returning to the mainland, research from the University of Otago released yesterday has shown that was not the case.
Using DNA from ancient bones, researcher Dr Catherine Collins discovered the sea lions found around New Zealand hundreds of years ago had different genetic material from those from the subantarctic.
That meant there was a unique, prehistoric sea lion roaming New Zealand's coasts before becoming extinct about 600 years ago.
''It's fascinating; really exciting findings,'' Dr Collins said.
It was estimated the sea lions became extinct between AD1300 and AD1500, soon after Polynesian settlement.
''Midden remains suggest they were hunted extensively.''
Their extinction then seemed to create an opportunity for sea lions from the subantarctic to colonise New Zealand's mainland, she said.
The research involved visiting different museums and universities around New Zealand where ancient sea lion bones are stored and extracting DNA from them in Otago University's secure ancient DNA laboratory.
The findings echo the discovery in 2008, also by University of Otago researchers using similar DNA investigations, of a new penguin species, which was estimated to have become extinct between AD1300 and AD1500.
Dr Collins said the study's findings helped give a greater understanding of the impact of human arrival on New Zealand's endemic plants and animals and it was expected additional cases of extinction and replacement would be found.
''We predict that future studies will reveal additional cases of lineage extinction and replacement in response to human impacts, especially across recently colonised ecosystems.''
The Marsden-funded study was led by Prof Jon Waters, who said the findings demonstrated the sea lions on Otago's coastline today were not a declining remnant of an original mainland population.
''Rather [it] represents a new arrival from the subantarctic.''
The findings were published yesterday in the research journal Proceedings of the Royal Society B: Biological Sciences.