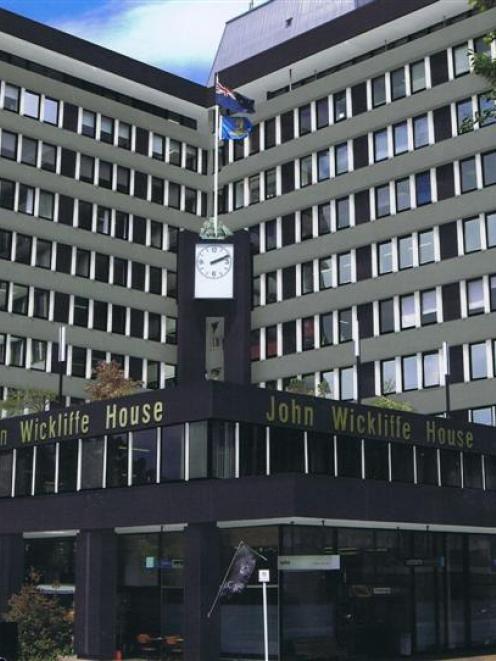 The owners of John Wickliffe House say no final decision has been made on colours for a proposed paint job for the building.
That follows a noticeable difference between colours in a graphic released by the Plaza Property Trust to the Otago Daily Times, and those in a resource consent application.
The consent application shows a much darker colour for the building than the light grey and black paint in the released graphic.
The application to paint over precast aggregate concrete panels on the front of the 1970s-era John Wickliffe House in Dunedin's Exchange drew opposition from heritage conservation advocates.
The company needed Dunedin City Council consent to repair and paint the building, because it was in a protected townscape precinct zone.
The work was a restricted discretionary activity and the building's design, appearance and cladding had to be considered when changes were made.
At the heart of the issue was a plan to paint the panels, which are covered with exposed and polished West Coast serpentine stone.
Opponents of the plan have argued the panels contributed to the building's visual integrity.
Asked about the difference between the colours in the released graphic, and the graphic in the resource consent, John Wickliffe House owners' representative Tony Offen said the consent was ''about whether any of the building exterior can be painted at all''.
''I would be delighted if it was only about the colour.''
There were ''a number of colour options'' considered and, if painting became an option, the most appropriate colour, or colours, would be decided ''in consultation with DCC''.
A hearing on the issue will be held on August 15.