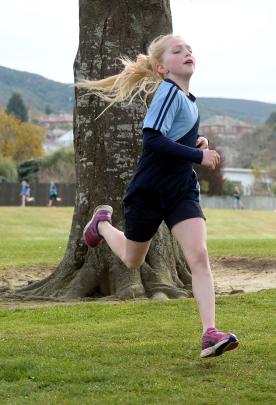 About 120 pupils from seven Dunedin schools battled for winning spots in the North Zone Cluster Cross Country at Bishopscourt Ground in Balmacewen yesterday.
Year 5 and 6 girls and boys from George St Normal School, Liberton Christian School and Sawyers Bay, Port Chalmers, St Leonards, North East Valley and Opoho schools were involved in the four races.
Competition was tough in each of the 2km events and the year 6 girls' race ended in a dead-heat for first between Melanie Button, of Sawyers Bay, and Isabelle Gazzard, of Opoho, third place going to Isla Nicholson, of George Street Normal School.
George St pupils Roman McNeil and Alex Smith took first and second places respectively in the year 6 boys race and Kahu Edmond-Smaill, of Opoho, was third.
Brooke Cathro (George St Normal) was well ahead of the rest in the year 5 girls' event. Second and third respectively were Georgia Winneke and Frankie McKinlay, both of Opoho.
George St pupils Alexis Owen and Talvin Williamson were first and second respectively in the year 5 boys' event and Liberton's Ryan Ure was third.
The zone cross-country is an annual event, the top 10 runners in each race qualifying for the Otago Primary and Intermediate School Cross Country be held on September 14.