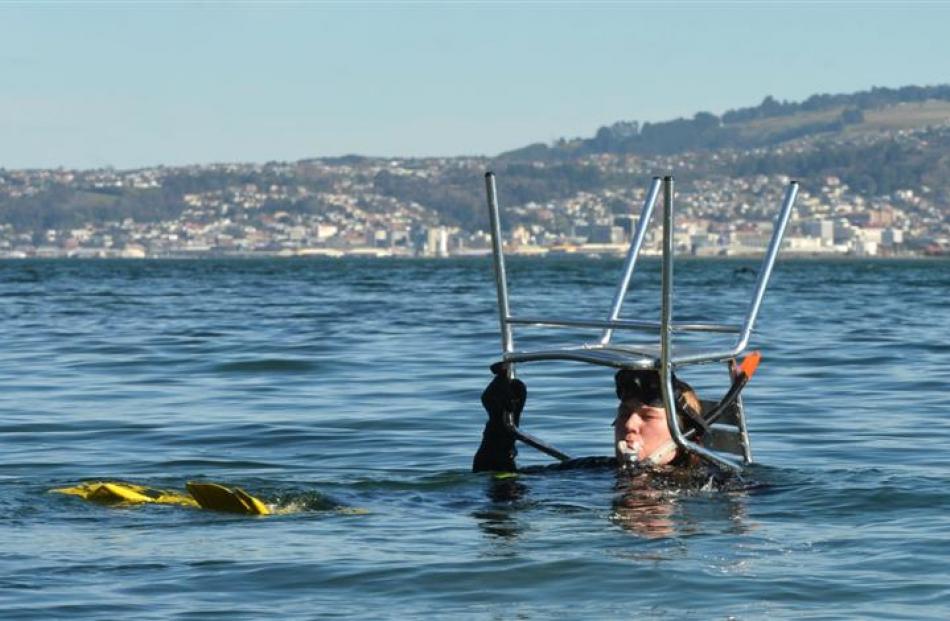 Debris divers and rubbish wranglers are being called on for the coming Macandrew Bay clean-up.
Project Aware co-ordinator Emma Young said the range of marine rubbish on the harbour floor at Macandrew Bay was diverse.
It ranged from ''the smallest bits of plastic, car batteries and appliances, to enormous fishing nets''.
The bay also included several species of marine life, including sea-horses, octopus and sea lions, she said.
''Let's keep it clean for them.''
The annual Dive Otago and Project Aware clean-up was set for Macandrew Bay on September 21.
''We have chosen the same site as last year as it's important to compare results from last year's clean-up.''
Dive Otago would provide gloves and rubbish bags for people to collect rubbish on the beach and walkway.
''We are sorting the rubbish and surveying the debris to identify and document everything we see underwater in a larger effort to prevent marine debris.''
Dive Otago instructor Kelly Boal (22), of California, said the underwater rubbish she collected in last year's clean-up included suitcases, chairs and car parts.
''It's ridiculous.
''It's just things people don't want and have thrown in the harbour.''
Dive Otago owner Dave Watson said his business had been involved in the clean-up since the early 1990s.
The most curious marine rubbish he had found when diving was a wallet containing several $1 notes with sequential serial numbers.
Divers needing gear could borrow it for free for the clean-up from Dive Otago - but availability was limited.
''It's first in first served.''
The clean-up begins at 10am at Macandrew Bay Yacht Club and ends with a barbecue.