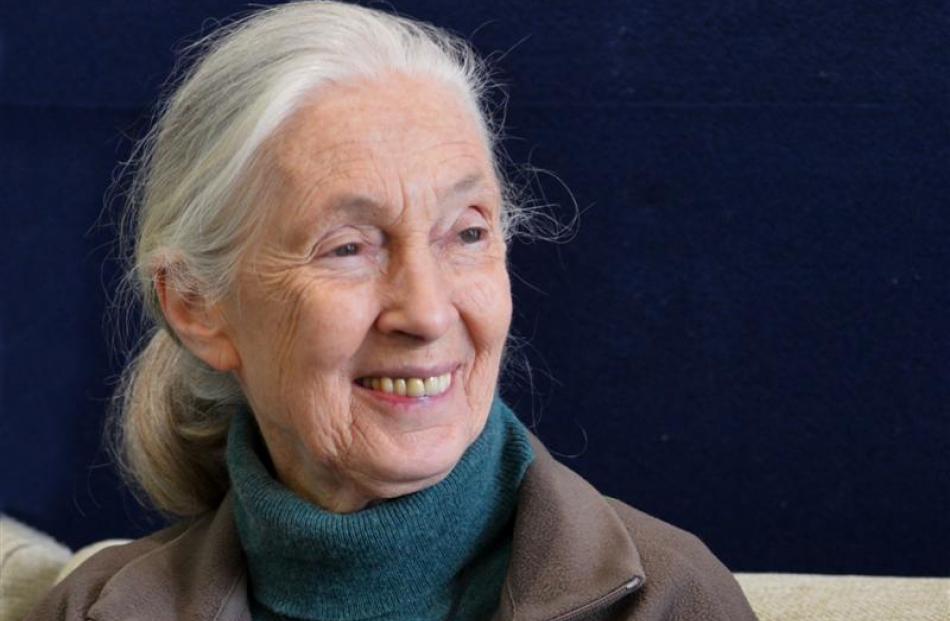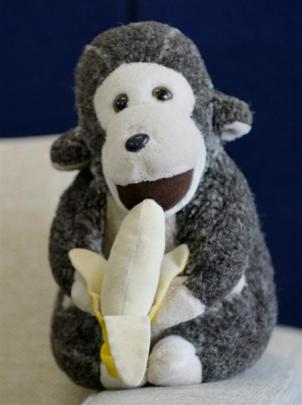 Conservationist and ethologist Dame Jane Goodall spends 300 days a year travelling the world spreading her message of hope and guidance. Rebecca Fox talks to the woman who was in Dunedin as part of a tour to mark her 80th birthday.
When Dame Jane Goodall left England for Africa, aged 23, she set off to explore the world.
Now 80, the passion is still there but it is directed slightly differently.
''Now, I'm trying to save the world or what we have left.''
Her work with the Gombe chimpanzees in Tanzania brought her international recognition and made the world aware that chimpanzees had emotions, minds and personalities.
Another of her landmark discoveries was that chimpanzees created and used tools. Previously it was thought humans' ability to do that defined them.
However, in the mid-1980s after the publication of her book Chimpanzees of Gombe: Patterns of Behavior, she realised saving the chimpanzees also meant preventing deforestation of their habitats.
She embarked on a quest to highlight the environmental issues facing not only Africa but the rest of the world. Through her institute, which she founded in 1977, she promoted the cause with young people through her Roots and Shoots programme.
It means she is constantly on the road with only brief breaks at her home in England.
''It's exhausting. But I don't like to see the beauty disappear - it hurts.''
There had been sacrifices along the way - she missed having her own dog, instead making do with her family's dog or those of her hosts while she is travelling.
And she only makes it back to the Gombe Stream Research Centre, which she helped set up, twice a year, often only for three days.
If the chimpanzees were hiding in the hills during that time, she did not get to see them.
''The ones I knew aren't there anymore.''
A comfort to her is her constant travelling companion Mr H, a toy monkey, a birthday gift from an inspirational blind former United States marine Gary Haun who never let his disability hold him back from enjoying life.
Mr H was at Dame Jane's side during her visit on Thursday to Orokonui Ecosanctuary and took pride of place in photographs with her.
She was ''loving'' her second visit to Dunedin and her time at Orokonui.
''It's a really good concept as it enables people to see what should be around them.''
Knowing about your country's history and its special animals was incredibly important especially in a country with so many native species, she said.
Which was the reason she travelled so frequently. She had been on the road since the start of the year, visiting Africa, Europe, Australia and New Zealand with brief breaks at home in between. After speaking in Wellington and Auckland, she heads to Nepal and then Africa.
''If we do not change our attitudes, it could lead to total ecosystem collapse.''
While she was yet to have great-grandchildren, she wanted the next generation to experience forests and animals.
''It makes me very angry the things we are doing today.''
To ''save the world'', something needed to be done about people's attitudes to the crippling poverty so many people lived in and the ''ridiculous'' demands people had today.
The very poor bought the cheapest products, which were often made out of products which had a negative environmental impact.
''Or they cut down a tree to grow food for their families.''
She hoped her Roots and Shoots programme, which had groups in 136 countries and involved 150,000 people, would help create young people who understood that ''we need money to live, but shouldn't live for money'' and that there was more to the world than being ''wedded to their video games or iPad''.
Not that she was against technology. In the correct arena, it could make big differences such as with chimpanzee research. Mapping technology and high resolution satellite imagery helped researchers find exactly where the primates were.
Through sponsorship, villagers had been given smartphones and tablets to ''map their own destruction or protection of the forests'', she said.
By giving young people the chance to choose projects that meant a lot to them, she believed it would give them hope for the future.
''They are my greatest hope. They are doing so much.''