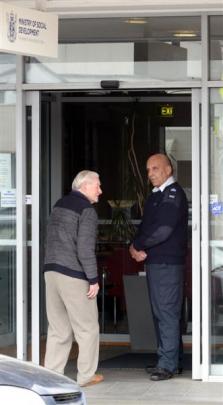 Security at Work and Income (Winz) service centres will be controlled differently from Monday, Ministry of Social Development chief executive Brendan Boyle said.
Security guards would control entry and might ask for identification, he said.
''If anyone is assessed as presenting a risk, they may be refused entry.
"While this may cause some slight inconvenience to clients, we believe that in the interests of safety for staff and clients this is a step worth taking.''
All ministry offices would observe two minutes' silence at 9.51am on Monday, to remember Peggy Noble and Leigh Cleveland, who were killed in Ashburton at 9.51am a week earlier.
The funeral for Ms Cleveland will be held in Alexandra this afternoon.
All offices including contact centres would close between noon and 1pm on Thursday during the Ashburton Community Civic Service, as a mark of respect, he said.
An independent security review into the ministry's physical security environment would be conducted by former New Zealand Police commissioner Rob Robinson and Deloitte New Zealand chairman Murray Jack.
The review was to determine the risks associated with the ministry's functions and activities and reveal if all practicable steps were taken to ensure the safety of ministry staff.
''We owe it to our staff to take another good look at their safety.''
The review would investigate whether changes were needed to ensure the physical safety of staff and members of the public from threats and assaults.
The review would be in two parts.
The first part would look at the public-facing service centres, mainly Winz sites including those where the ministry was co-located with other agencies.
The first part of the review was aimed to be completed in two weeks.
The second part of the review process would have a longer completion timeframe and review all the remaining ministry workplaces.
Staff feedback would be gathered during the review process.
Staff were ''shaken'' after the attack, and the stream of subsequent threats to various sites has understandably compounded their unease, she said.
She thanked the ministry frontline staff for working this week and continuing to serve the public, Mr Boyle said.
• A 41-year-old male beneficiary who allegedly rang the Alexandra Winz office on Thursday and expressed his ''joy'' at the fatal shooting has been charged with misusing the telephone.
Sergeant Aaron Nicholson, of Wanaka, told the Otago Daily Times police were alerted by Winz and the man is due to appear in the Queenstown District Court on October 6.
Sgt Nicholson said the man's comments were made in a ''rather insensitive and offensive manner'' breaching telecommunications laws.
- Additional reporting Mark Price.