More pupils than ever are coming out while still at secondary school and one Dunedin principal says identifying as transgender is the latest ''cause celebre''. But while more pupils are openly identifying as lesbian, gay, bisexual, transgender (LGBT), life can still be a challenge for young people grappling with their sexuality or gender identity. Reporter Vaughan Elder investigates. 
Society has changed a lot since Labour MP Grant Robertson went to King's High School in the 1980s, but he stresses many LGBT youth find coming to grips with their identity "just as challenging'' as he did.
Mr Robertson has fond memories of King's, but coming to terms with being gay at a time when it was almost "unheard of'' for pupils to come out resulted in some dark periods.
"I had a good circle of friends, I played sport, I was doing pretty well in class ... but I had this enormous struggle that I was going through.
"There was a period of time where some people started to find out, or at least have suspicions - that led to me feeling excluded and to some pretty dangerous behaviour from me, particularly involving alcohol.
"I got pretty close to causing serious damage to myself as a result of that. There was one particular incident that was pretty dangerous for me and it was all related to my inability to accept who I was.
"They were pretty dark periods, but I got through them.''
He believed the decision to come out as a young person - which he did after going to the University of Otago - remained "a very difficult one'' despite the "huge advances'' made since he finished high school in 1989.
The fear of being different and not being accepted by friends were among the hardest issues he faced and the same challenges still made life difficult for many pupils today.
"You have got a lot more young people starting to identify as trans, as well, and that's another set of issues that people have to deal with as they grow up.''
Logan Park High School principal Jane Johnson said changes in society and the school's focus on inclusiveness meant gay and lesbian pupils were much more open than in the past.
"For example, one of our top year 13 students had a long-standing male-to-male relationship with a student one year below and they were voted the cutest couple at the formal."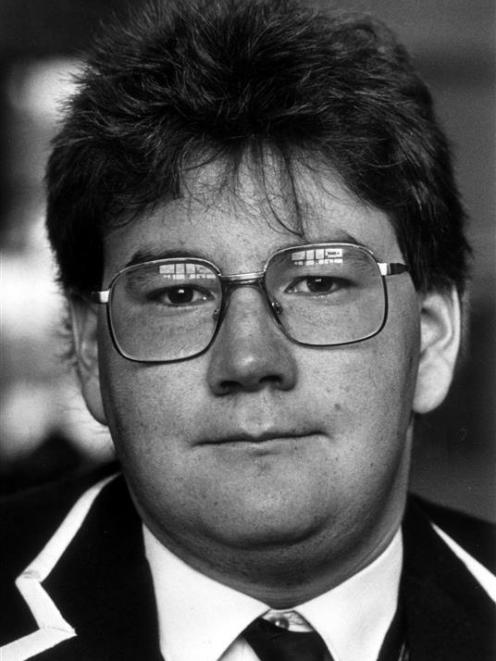 More recently, there had been a steady increase in the number of pupils at the school - as young as year 9 - who identified as transgender, meaning they did not conform to the conventional notions of male or female gender.
"The transgender one is a much newer [issue] and this has been a spike worldwide,'' Ms Johnson said.
This came with its own set of issues, ranging from practical ones, such as allowing pupils to change the uniform they wore and providing separate unisex toilets, to giving pupils psychological support for what was at times a difficult transition.
On this front, Ms Johnson had created a specialised enrolment process to help make things easier.
However, she believed there was a separate category of pupils who imagined they were transgender because it was the "cause celebre'' on social media.
"This is the problem, because of social media and the very - how would I put it? - immature, restless, unthinking processes that the parent allows the child to go through.
"I believe there is a lot on social media and movies and that sort of thing about the transgender issues and it's having a lot of impact on those who are just generally restless and don't know who they are at age 12, 13.''
There were also pupils who might say they identify as transgender in order to get away with dressing differently.
"And, actually, as soon as they are presented with the transgender enrolment process, they run a mile from it.''
Otago University Students' Association queer support co-ordinator Hahna Briggs said one should be "careful'' when talking about being transgender as a "fad'' or "craze''.
"I think we have to remember that we are talking about young people who are continuing to explore and develop their sense of identity,'' she said.
She attributed the rise in young people identifying as transgender or experimenting with their gender identity to an increased awareness about transgender rights.
"Trans-activists have become more and more visible and I think they are being heard by a lot more people.''
Like Mr Robertson, she believed society had moved in the "right direction'' when it came to accepting LGBT people, but there was still a long way to go.
She pointed to New Zealand research showing LGBT pupils were more likely to face problems with depression and self-harm.
"That's kind of indicating that we are still failing in some areas to support young people.''
And despite more people coming out at secondary schools, many were still hiding their identity, out of a fear of "harassment and bullying'', or shame because they had grown up in an environment where gender and sexual diversity was seen in a problematic way.
People needed to examine how they could be more welcoming, so people felt safe "being themselves and being out''.
"If they are concealing it, then they are not able to access support or have conversations that they might need to be able to grow and be well.''
The inclusiveness of the secondary school an LGBT pupil was attending was also an important factor and Ms Briggs was aware some Dunedin schools had a "more inclusive culture than others''.
"Without naming schools, I know of one single-sex school that is making a lot of really positive strides.
"I have had some feedback from another single-sex school that has been quite different, that it's not very inclusive and there is a bit of an assumption that LGBT young people don't really exist at that school.''
Family Planning health promoter Louise Pearman said research by the University of Auckland showed significantly more LGBT young people were coming out while still at school in 2012 than in 2001.
"However, there are still higher levels of bullying, higher levels of self-harm,'' Ms Pearman said.
So while it was "fantastic'' more young people were coming out, it was too early to say "we've won the war'', as the research showed LGBT youth were still having "considerable stresses in their life''.
"That's not because of being gay or trans or queer; that's because of attitudes of society.
"It's called minority stress.''
As part of her role, Ms Pearman trained teachers to make sure they were "inclusive'' of diversity.
Mr Robertson said there was room for improvement in the way LGBT people were treated in New Zealand society.
"The way I kind of think of it is, is I think as a society we are much more more tolerant of differences.
"But I think there is quite a long step between tolerance and acceptance and I think we are still on that journey.''
His advice to young people grappling with their sexuality or gender identity was that it was "really important for you to be who you are''.
"Whatever dark period that you might be going through - just as I did - it will be OK, as long you stay true to who you are and that you seek out the support that is there.
"More often than not you will be surprised to find just how accepting people are.''
---
Key facts
• Almost four out of every 100 (3.8%) New Zealand secondary pupils who took part in a survey in 2012 reported being attracted to others of the same or both sexes, which was comparable to numbers in previous surveys conducted in 2001 and 2007.
• In 2012, 53.1% of pupils attracted to either the same or both sexes had come out, compared with 31.3% in the 2001 survey.
• Pupils attracted to the same or both sexes were more than twice as likely to have deliberately self-harmed in the last year than straight pupils (59.4% compared with 23%), three times as likely to have exhibited significant depressive symptoms (41.3% compared with 11.4%) and almost five times as likely to have attempted suicide (18.3% compared with 3.8%).
• About four out of every 100 pupils reported they were either transgender (1.2%) or they were not sure of their gender (2.5%).
• About 40% of transgender pupils had significant depressive symptoms and one in five had attempted suicide in the previous year.
Source: The Health and Wellbeing of New Zealand Secondary School Students in 2012: Young People Attracted to the Same Sex or Both Sexes, published by the University of Auckland in 2014.
---