The MetService says surface flooding and slips are possible in Dunedin and eastern Otago after upgrading its severe weather watch for heavy rain to a warning.
As snow hits part of Central Otago and Queenstown, MetService  said a wet onshore flow was expected to bring "significant rainfall to eastern Otago".
This prompted the MetService to issue a heavy rain warning for the area and it is now expecting between 70mm and 120mm of rain to fall between 9am today and and 9pm tomorrow.
This could result in streams and rivers rising rapidly and could lead to surface flooding and slips.
The Dunedin City Council said as a precaution staff and contractors were working to ensure stormwater systems were clear and running well.
"We will continue to monitor the situation and will be on standby overnight in case the situation worsens."
The council was advising Dunedin residents to be prepared, which included checking grates, spoutings and drainage channels  for blockages and removing items from basements which were prone to flooding.
Dunedin was already hit by some extreme weather this morning with large hail falling on the Northern Motorway this morning.
A woman who shot a video of the hail, said it made the roads "very slippery" and some cars stopped driving.
Three Waitaki Valley waterways are in flood and detours are in place on the Alps 2 Ocean cycle trail.
Kurow Creek, Otiake River and Otekaieke River were in flood and impassable and likely would be for the rest of the week, the trail's Facebook page said.
Trail users should use the alternative route on SH83 to cross these rivers, it said.
Cycle Trail Closed signs had been put in place at Kurow and the Maori rock drawings.
SNOW IN QUEENSTOWN
Snow is falling in central Queenstown, disrupting flights and closing the Crown Range as a late wintry blast hits the lower South Island. 
This comes as the MetService has confirmed heavy snow is likely to fall in inland Southland, Central Otago and inland Clutha for the next two days.
Queenstown Lakes District Council (QLDC) confirmed about 8.15am that the Crown Range was closed and trucks were working to clear it following heavy snow overnight. 
The council said there had also been reports of snow in Fernhill.
​A flight due to arrive at Queenstown Airport at 7.55am from Christchurch was cancelled, as was a flight set to leave Queenstown for Christchurch at 8.20am. 
Aurora Energy said customers in Arthur's Point were without power.
A response crew was on the way to investigate the problem.
Residents in Lower Shotover were also without power.
Meanwhile, the Central Otago District Council said there had been some snow overnight, particularly in the Manuherikia and Maniototo areas. 
Danseys Pass Road was closed due to snow and ice.
Fresh snow has fallen on many of Central Otago's mountain ranges and there is about 2cm of snow on the ground in Naseby.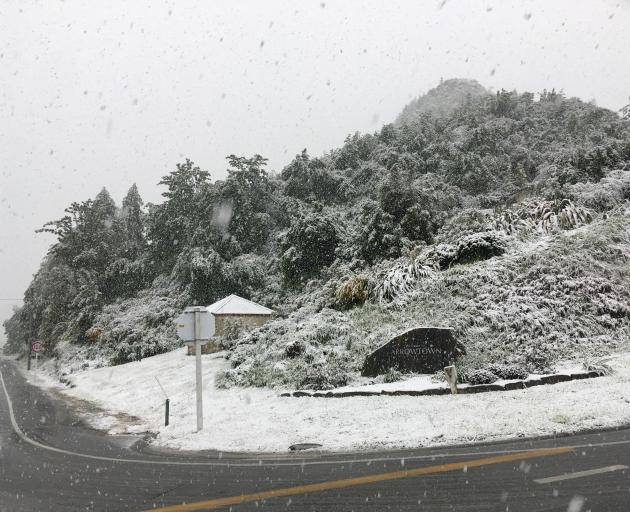 Road snow warnings are in place for Lewis Pass (State Highway 7), Arthur's Pass (SH73), Porters Pass (SH73), Lindis Pass (SH8) and Milford Road (SH94).
Snow was settling on the Lindis Pass where a caution was in place for snow. A caution was also in place for SH94 between Te Anau and Milford and SH6 between Cromwell and Kingston.
A MetService spokesman said cold southerlies were expected to affect the south of the South Island from today until late tomorrow, bringing wintry conditions.
"A heavy snow warning is now in force for inland Southland, Central Otago and inland Clutha.
"Snow should lower to 400m to 500m at times, with significant snow accumulation above 800m.
"Heavy snow may disrupt travel in affected areas and could damage trees and powerlines.
"Cold conditions may cause stress for livestock.
"People are advised to keep up-to-date with the latest forecast in case more areas are added to the warning."
The spokesman said the snow was not expected to affect Dunedin, but sleet was likely to fall at lower levels.
There was a moderate risk of thunderstorms in coastal areas of Otago, Southland and Canterbury south of Christchurch.
MetService has also issued a severe thunderstorm warning for the top of the South Island, which follows major storms yesterday including one that led to a tornado near Ashburton.
FOUR SEASONS IN DAY
Dunedin was hit by unseasonably fluctuating conditions yesterday, going from summery weather to heavy rain, hail, thunder and lightning and back again.It was the very definition of four seasons in one day.
Much of Otago and Southland was hit by the forecast  stormy weather at different times yesterday.
The storm passed over Dunedin about 1pm, and some residents described the hail stones as being the size of liquorice allsorts.
"I've never seen hail like it here before," a Halfway Bush resident said.
Although the heavy rain and hail blocked drains temporarily, no major damage was reported.