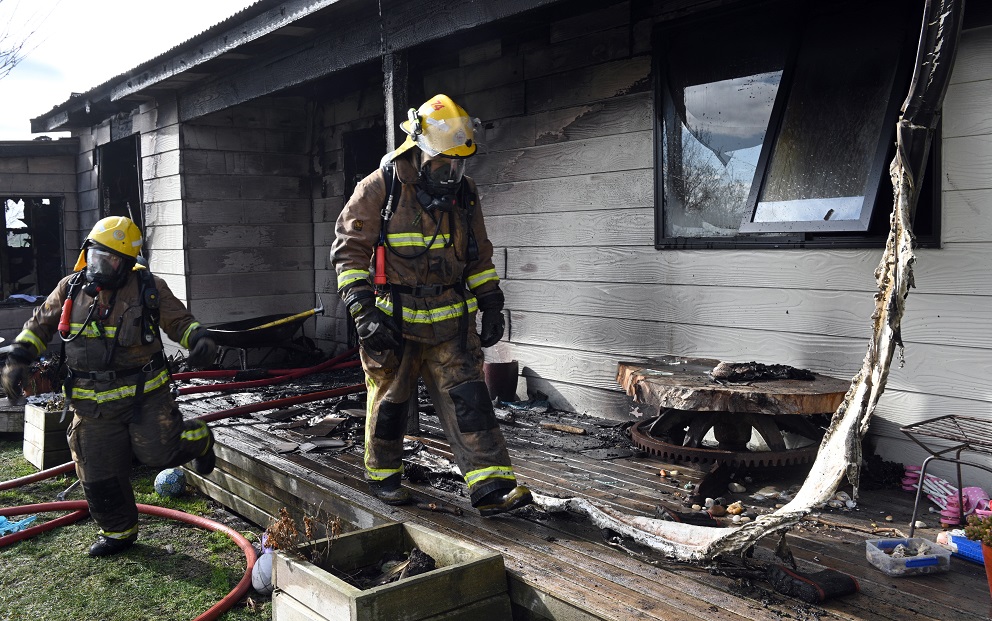 An electrical device was responsible for a fire that engulfed a family home near Waikouaiti at the weekend.
The family, who were left "devastated" after their home caught fire on Sunday just minutes after they left for Oamaru, are thankful for the community support that has poured in since.
Fire and Emergency New Zealand fire risk management officer Scott Lanauze said the fire was accidental and was started by an electrical device, most likely a laptop, left charging in the lounge of the home.
"The electrical device was put on charge and while the owners were away it has started a fire.
"It has, unfortunately, been a catastrophic event."
There was some evidence the device was plugged into a multi-box, but whether the fire was caused by the plug, device or multi-box was not known, Mr Lanauze said.
"It's not always the device ... sometimes it is the method of charging rather than the thing charging."
Mr Lanauze recommended people made sure their devices were charging on a hard surface, such as a bench or a table.
"You want there to be somewhere for the heat to dissipate ... don't put your phone under your pillow or charge your laptop on a duvet."
The family did the right thing in having four working smoke alarms but the damage to the home meant it was no longer fit to live in, he said.
He recommended people did not "daisy chain" their plugs or multi-boxes, ensured safe charging, and did not overload plugs.
"If there is fire, get down, get low and get out," he said.
The family, who asked not to be named, said yesterday they were thankful to the community for "kindly and graciously" offering support.
"They have given us so much support, and love, and resources at this time and we are very, very grateful."
Waikouaiti Volunteer Fire Brigade chief fire officer David McLeod said he would visit the family again tomorrow.
He understood the family was offered a house to stay in, but they had decided to stay with family members on a farm.
"Our community is really good at supporting people in need ... the support will come in quickly."
Progress of Waikouaiti Area community worker Sonya Billyard also said it was a tight-knit community and the family would be well supported.
All family members were safe and no-one was injured.
A Fire and Emergency New Zealand spokesman said crews arrived at the house, between Palmerston and Waikouaiti, about 10.15am and found it ablaze.
Appliances from Waikouaiti, Palmerston and Waitati attended. It took about an hour to extinguish the fire.