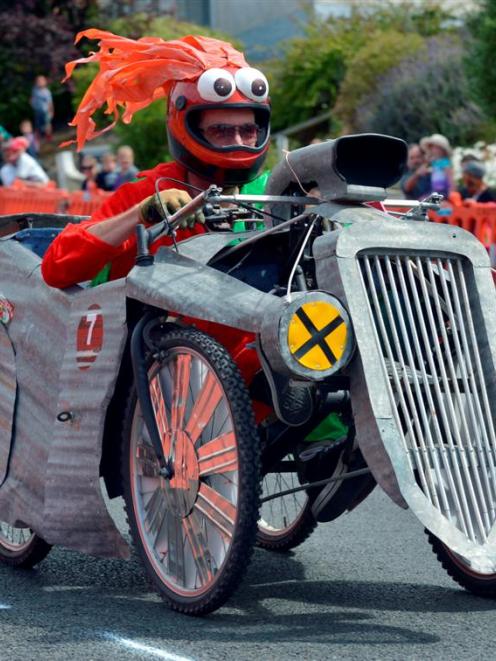 The different ways of sending a rattling, homemade trolley careening down a steep street were on display at the annual Dunedin Trolley Derby yesterday.
Some riders set off with a whoop of delight and a wide smile, steering their rickety wooden carts on an erratic course to victory.
Others guided sleeker racing machines downhill like a bullet, eyes full of steely professionalism, gloved hands clamped tightly on rattling steering wheels made from wooden planks or recycled tricycle handlebars.
• Slideshow: Dunedin Trolley Derby
But when things went wrong, they did so spectacularly, as Isaac Oskam (7) and Joshua Burns (8) found out when they crashed.
Both developed a bad case of the speed wobbles and flipped while hurtling down Manor Pl, coming to a sudden halt as a crowd of up to 400 people gasped and grimaced.
They dusted themselves off, but were left in the wake of Lily Venables (8) who eventually won the ''Zoomers'' class for children aged 5 to 8.
Lily was one of only a handful of girls taking part, and afterwards told the Otago Daily Times the racing was ''so much fun''.
''When you get up to full speed, I don't know how to explain it - it's so much fun.''
She was cheered on by proud family members, including father Justin Venables, who built his daughter's trolley two years ago.
Mr Venables said it was pleasing to see children at the event ''just having a ball''.
The annual downhill race, organised by the Dunedin North Rotary Club, this year attracted about 50 entries and a larger crowd than last year, co-organiser Mark Burrows said.
Competitors were divided into mainly age-related categories, with rules requiring trolleys to have brakes and steering and drivers to wear helmets, gloves and other protective clothing.
Mr Burrows said yesterday's trolleys and racing had been ''fantastic'', despite late rain that thinned out the crowd before the finals.
The aim was to stage a free event that encouraged families to do something together, and it was particularly pleasing to see more younger children taking part this year, he said.
''The best moment for me is just seeing the smile on kids' faces when they get a trophy,'' he said.
In other results, Zane Clarke won the Sprinters class (for ages 9 to 11); Seth Miller and Damian Larson took first equal in the Rockets class (ages 12 to 14); Angus McDowell won the Mad Max class (open class); and Peter King won the Big Kids class (ages 12 and over).