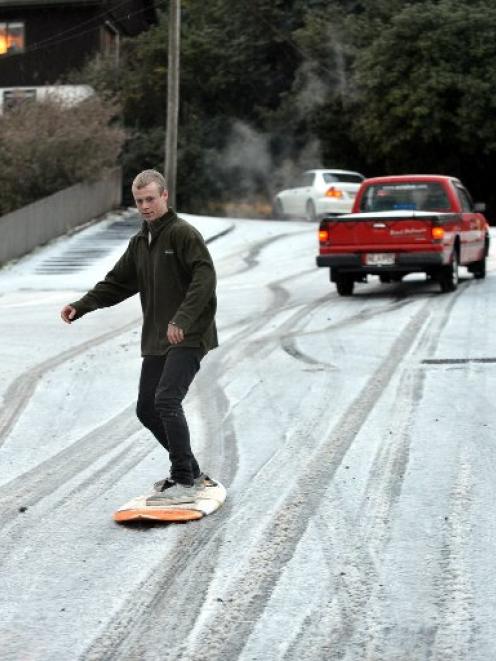 Otago residents are urged to take care on roads this morning, with temperatures forecast to drop close to freezing and rain and snow expected to turn to ice. 
A southerly front bombarded the region yesterday with snow, hail, rain and gusty winds. Overnight lows of between 3degC and -1degC were forecast in many areas.
Senior Sergeant Steve Aitken, of Dunedin, told the ODT there had been no ice-related road incidents this morning.
"But people should be very careful. Don't be the first one [to crash]," he said.
State Highway 87 between Outram and Middlemarch is closed because of snow and further inland care is being urged on the main roads between Arrow Junction and Kingston, and the road between Frankton and Queenstown.
MetService meteorologist Daniel Corbett said the temperature in coastal areas, including Dunedin city, would be about 3degC this morning and hill suburbs and outlying areas would be colder.
"There is the risk for treacherous spots, slick spots on roads," he said.
In inland areas, including throughout Central Otago, snow showers would continue this morning but ease as the day wore on, Mr Corbett said.
Fine weather forecast for tomorrow would again bring the risk of early frost and ice.
In Dunedin last night, traffic in the hill suburbs came to a halt when the results of a hailstorm about 6pm froze on roads. Taxis stopped running to the hill suburbs about 7pm. Bus services were affected by sleet, snow and hail all day.
Some schools opened late.
Three Mile Hill Rd was closed because of snow and State Highway 87 from Outram and Middlemarch was closed about 8pm.
Police warned motorists to avoid unnecessary travel around the city this morning, following a spate of minor crashes last night.
Acting Senior Sergeant Tania Baron, of Dunedin, said those who drove were advised to travel slowly and keep a safe distance between vehicles.
As much as 30cm of snow fell in parts of inland Otago and Southland yesterday.