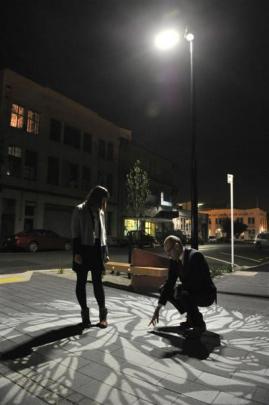 By day it seems there is some change to be seen in Dunedin's warehouse district every week.
Now the area is offering something distinctly different by night as well.
Last month the historic street, which has been the focus of rejuvenation efforts by the Dunedin City Council and private investors, received the city's first lot of new LED street lights,This month three special lighting scenes are decorating the street's footpaths.
The images are created by ''gobos'' - 4cm-wide laser-cut metal stencils through which a small projector beams light.
The projectors are attached to street lights and use their light source - similar ones are used in Hamilton.
DCC acting urban design team leader Dr Glen Hazelton said the templates cost a few hundred dollars to cut, meaning there was potential for scenes to be changed.
The projectors were a one-off cost to buy, with three costing a total of $9600, and the successful designer was paid $1500 for each design.
The gobos and new seating for the area were part of the council's commitment to incorporating an artistic element to any new above-ground infrastructure projects, Dr Hazelton said.
''We thought this was a way you could do public art on a shoestring, because once the infrastructure is in, it only costs a couple of hundred dollars to change it.''
The funding for the gobos was part of the $580,000 overall budget for council-approved amenity improvements in Vogel and Bond Sts.
It was hoped similar lighting would be installed in Bond St at a later date.
The designs used were created by Debbie Adamson of NZ Heritage Properties and were chosen from eight schemes submitted when the council called for proposals, he said.