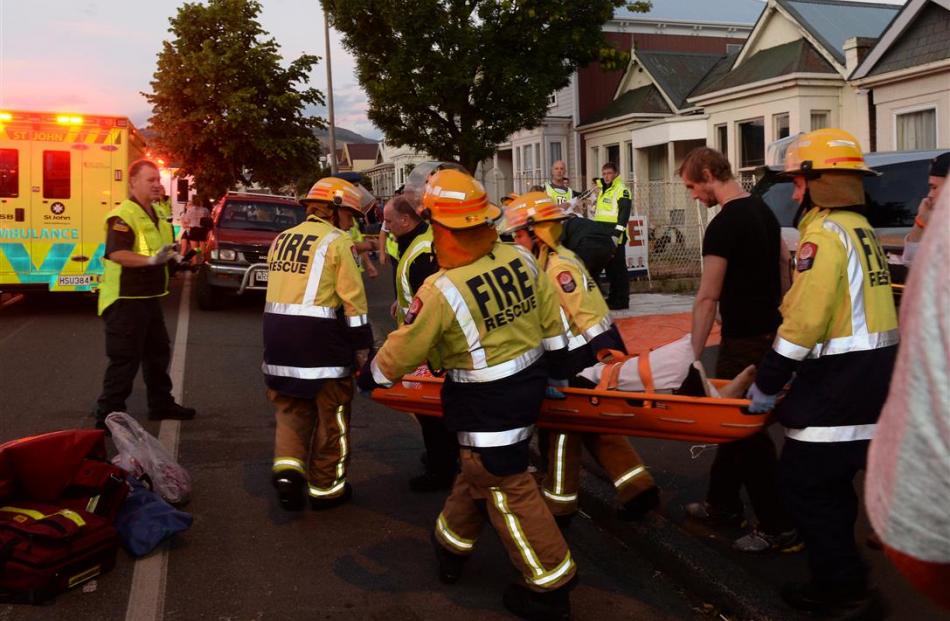 Students say there were about 30 people jumping up and down on a Castle St balcony just before it collapsed, seriously injuring two people, at concert in Dunedin.
Eighteen people were taken Dunedin Hospital's emergency department last night after the incident at a block of flats at 598 Castle St, where police estimate 1500 people were watching Six60 perform. 
The balcony collapsed about 7.45pm in North Dunedin, causing people to fall about 3 metres. Decking also landed on people in a courtyard area.
A spokeswoman for the Southern District Health Board told the Otago Daily Times this morning that one person had been transferred to Christchurch Hospital, while the other person remained in Dunedin. Both were in a serious but stable condition. The remaining 16 people had been discharged.
In a statement late this afternoon Otago University's vice-chancellor, Prof Harlene Hayne, confirmed that one of those in hospital is a young woman who attends the university.
"My thoughts are with this young woman and her family at this difficult time."
Prof Hayne said the university was working with affected students to offer and provide support to them and, when appropriate, their families.
"I am particularly proud of the students who stepped up to assist the emergency services staff last night.  
"This was a terrible incident, and their actions have been commended by staff attending the scene."
The ODT understands police and security staff instructed Six60 to continue playing so emergency services staff would not be hampered when tending to the injured. The band played at 660 Castle St, where it was formed, last year.
Police told the ODT today they would not be making any comment until Monday.
Student Pippa Barley-Clapp had been on the balcony, but was heading down stairs when it collapsed.
"We were waiting for Six60, and then we just saw it fully collapse in front of us."
Ms Barley-Clapp estimated there were about 30 people on the balcony when it gave way, and the people who had been standing underneath it were the most badly injured.
"It was pretty bad," she said.
Two other students, Lily Adsett and Jamie Constable (both 19), live in Castle St near the flat complex and were also at the gig.
Ms Adsett was close to the balcony when it collapsed and said she saw everything.
"It was pretty slow-mo. People were just jumping up and down on the balcony, and then the next minute everyone was carrying [the balcony] out, pretty much, because it landed on heaps of people underneath.
"There were just so many students helping out - and Campus Watch."
The whole incident was scary, she said.
Ms Constable said she was up at the front when the balcony collapsed and was not aware of what had happened until later on.
A member of the band asked if everyone was all right, Ms Constable said, but she assumed they were talking about a scuffle at the front of the crowd.
"I thought it was just because the crowd was getting real into it. And he said, 'I'm not going to continue until I know that everyone's okay', and because there was a fight up the front and there was a huge brawl, we just thought it was that. [So we said] 'Yeah, everyone's fine! It's all good up here, keep playing!'"
Three tenants at the Castle St complex refused to talk about the incident or aftermath when approached by the ODT this afternoon. They said they did not like how the media was reporting the story and, they thought, negatively portraying students. 
A WorkSafe spokeswoman told the ODT the agency knew about the incident and was making inquiries. However, it had not yet decided whether it would investigate.    
Concert not sanctioned by university 
A University of Otago spokeswoman said Friday night's concert was a private party organised by the band at a private address. It was not sanctioned by the university and not held on its grounds. The first it knew of the event was via social media.
However, once the university confirmed late yesterday afternoon that the event was to take place at a private property in North Dunedin, its own security staff, Campus Watch, attended along with police as a precaution.
Otago University Students' Association president Laura Harris said she had gone down to Castle St this morning to offer support to residents. "My focus was on their safety." The residents she spoke to were "just worried about their friends".
Ms Harris reiterated that support was available to anyone who needed it, and they should contact: help@ousa.org.nz.
The Otago Polytechnic Students Association said this afternoon at least two of its members were involved in the "tragic events" on Friday and extended its sympathies to those affected.
President Kayla Miller said it was a tough time for the student fraternity.
"We have to remember this was a fun event, where students were coming together to enjoy an iconic Dunedin band, and for a fun Friday night and to end like this is nothing short of horrific.
"At the OPSA we also want to praise the actions of the students at the event who worked alongside emergency service workers in helping to free those trapped by the balcony fall."
Ms Miller said while it was an event where the student drinking culture may once again be called into question, it was important to think about those who have been affected before "slamming the actions of the concert-goers".
"We have seen a similar incident to this in 2011, which bought more control to the Hyde Street Keg Party, seeing our friends at the OUSA take control."
Ms Miller said over the past four or five years, actions had been put in place to make sure North Dunedin was a fun and safe place to socialise and live.
The OPSA thanked emergency staff for their efforts.
Incident concerning, says mayor 
Dunedin mayor Dave Cull said the incident was "a bit of a tragedy". 
"That's really serious and really concerning," he said. "But my observation is that you can't put this into the same category as a street party that gets out of control ... there might've been a certain amount of overloading of the balcony, but it's not like anybody's done something really criminal or stupid.
"It was made clear that this wasn't out of control - alcohol wasn't an issue in this case ... It's easy to link previous bad behaviour with this accident, but I don't think it'd be fair to do so."
The accident might provoke a look at "the sense of having large groups of people on structures that aren't designed to cope with them", he said.
"That's why we have limits on numbers performance venues can hold at any one time. We should probably look into that. If there'd been a fire or anything else, other damage or harm could've been done."
That might take the form of looking at building codes on a local or national level, Mr Cull said. 
Flat owner 'not aware' of gig
Richard McKnight, a shareholder in the company that owns the damaged flat, told the ODT he did not know anything about the balcony collapse "apart from what I've seen in the press".
The company, Ogato Investments Ltd, had owned flats in the Castle St block since 2001, and he believed the flats were built "three or four years before that".
Mr McKnight said he was not aware of any previous problems with the balconies, and had "no idea" why one gave way. There were "probably too many people jumping up and down", he said.
He had not been aware there was going to be a band playing there.
Mr McKnight had not been to the property this morning, but said he would be "working through" the situation with the property manager.
"I'm obviously sorry for the people who were injured," he said. "I'm obviously thinking about the poor students who were hurt."