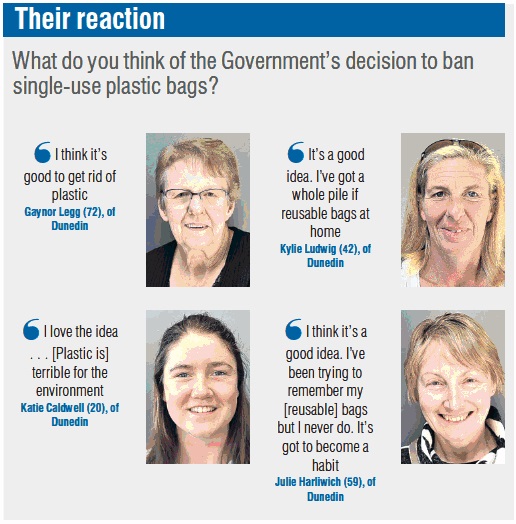 Dunedin people appear to support a government move to ban single-use plastic bags, but also say there is more to be done.
The Government has pledged to rid the country of single-use plastic bags within a year.
Prime Minister Jacinda Ardern and Associate Environment Minister Eugenie Sage made the commitment yesterday.
Ms Ardern said she listened to the demands of 65,000 New Zealanders  who signed a petition calling for an outright ban.
"Every year in New Zealand we use hundreds of millions of single-use plastic bags — a mountain of bags."
New Zealand is one of the highest producers of urban waste per capita in the developed world,  according to OECD data.
Ms Ardern said plastic bags polluted the country's coastal and marine environments and caused serious harm to marine life.
"And all of this when there are viable alternatives for consumers and business.
"It's great that many people are already changing the way they shop but it's important we take the time now to get this right."
The Government has called for feedback on the best ways for the ban to be phased in, with consultation open until September 14.
Ms Sage said she wanted feedback on options for the date by which the phase-out would be complete, what bags should be included, retailers that should be exempt, and how best to help people with the transition.
Dunedin sustainable education and business consultant Niki Bould said the news was "fantastic to hear".
The plastic bag issue needed a "ground up" approach, with community projects making positive change, such as groups that made reusable bags, she said.
But there was also a need for the Government to step in and say "this is what we're going to do".
"You've got the carrot and  the stick, and I think that's what we need.
"It's never going to work if we've only got the carrot."
Dunedin City Council waste minimisation officer Cath Gledhill said the move was good for the council's recycling efforts, as plastic bags were one of the waste products that could not be recycled but  ended up in recycling bins.
"I think it's an exciting move.
"I'll be interested to see what the consultation turns up."
Ms Gledhill said plastic waste was a broader issue than just bags, as there was still plenty of soft plastic material used in packaging.
"There's still a way to go."
Reaction to the story on the Otago Daily Times website was mostly positive yesterday.
— Additional reporting RNZ