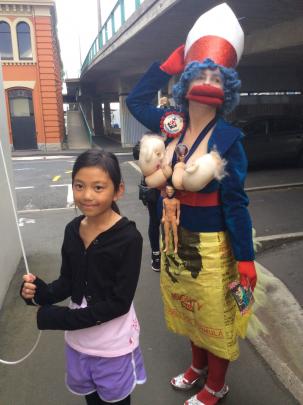 Dunedin is leading the way in zero-waste fashion.
This evening Dunedin designers Shigeko Iwamuro and Fiona Clements opened the city's first sustainable fashion hub.
Aimed at fostering creative talent in a way which supports zero-waste ideals, the Jetty St facility incorporates a shop and workroom.
Clements was inspired to spread the zero-waste message after seeing firsthand the amount of fashion industry waste sent to landfills.
She said people needed to curtail their consumerism and think about obtaining quality garments which will last longer and can be recycled as the wearer sees fit.
It is hoped the fashion hub will be a platform for Clements and Iwamuro to pass on their knowledge of eco-practices to others, and launch a wider zero-waste movement within Dunedin's fashion community.
Among those supporting the initiative is Dr Margo Barton, academic leader of fashion at the Otago Polytechnic school of design.
She was one of about 50 people attending this evening's launch, held as part of iD Dunedin Fashion Week.
Clements kicked off the function by raising three specially-made flags at the premises, signifying her quest to fly the flag for a better fashion future.