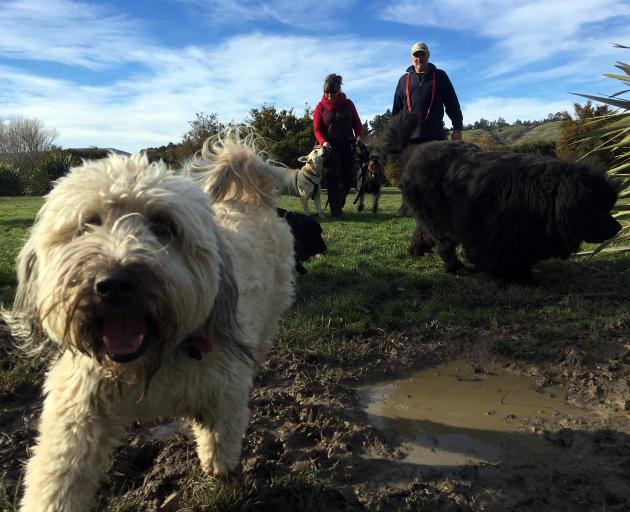 A call has been made to build a path across a "ridiculously muddy'' section of a Mosgiel dog park.
At a Mosgiel-Taieri Community Board meeting in Mosgiel last week, board member Phillipa Bain asked Dunedin City Council parks and cemeteries manager Gareth Jones if a path could be extended across a "boggy'' section of the East Taieri Dog Park.
"It has a wee walkway but after that it's no-man's land. It's so boggy - it's next level.''
Mrs Bain said the wet condition of the park made her take her dog elsewhere for exercise.
Mr Jones said extending the path "was not on the radar but it doesn't mean it can't be done''.
"It would purely come down to costing.''
The council would investigate and report back to the board, he said.
When the Taieri Times visited the park last week, Jan Lord, of Kuri Bush, was exercising her dogs.
A path should be built across the "ridiculously muddy'' section, she said.
Regular park-user Chris Burrows, of East Taieri, created a petition in 2014 urging the council to upgrade the park.
The petition, with 116 signatures from park users, was given to the council during draft annual plan deliberations in 2014.
Four years on, the park remained a "mud bath'', he said. "It's virtually not fit for purpose.''
The park was boggy despite a lack of rainfall this winter, he said.
Niwa climate scientist Nava Fedaeff said data revealed Dunedin was drier than normal and temperatures had been "above average'' in the first half of July.
Niwa data also showed Dunedin was drier than normal last month, having received less than half the typical rainfall, she said.
When the Taieri Times asked Mr Jones if the park was fit for purpose, he said: "During winter, it is not unusual for parks across the city to have issues with boggy ground and staff do their best to manage this.''
Council compliance, animal and parking services team leader Peter Hanlin said following the petition in 2014, a gravel pathway was built across the park and some park users put in another bridge across the creek, creating an alternative crossing for dog owners.
The council also made other improvements to the park, such as lighting and the introduction of a small-breed dog park, he said.
In a recent survey of park users, most people were "very happy'' with the facility.
SHAWN.MCAVINUE @thestar.co.nz