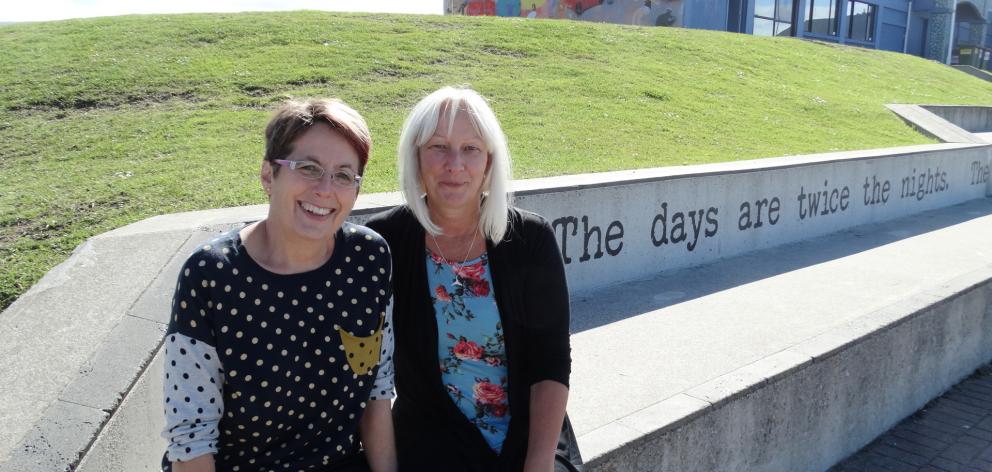 Visitors to the St Clair Esplanade can experience sand, sea, sky ... and al fresco poetry, thanks to the efforts of local artists.
On the city's infrequent warm summer days, Poems in the Waiting Room co-ordinator Ruth Arnison and artist Sheryl McCammon have been hard at work adorning the concrete seating/steps in front of the South Coast Boardriders clubrooms with poetry.
"It has been a lot of fun doing this project - we have met a lot of friendly locals and their dogs out for a walk,'' Arnison said.
"It is definitely the best office in town,'' she said.
The featured poem is Dunedin Summer by the late Jean Lonie, which reads "The days are twice the nights, The hills are green; left by the tide, Krill lie in bands, Red as crayfish, round sand-banks, algae green, This tartan suits the town.''
The poetic display is part of the Poems on Steps (Post) project, which aims to create poetry installations in public spaces - specifically steps - around Dunedin.
So far, Arnison and McCammon have decorated the St Clair Playground steps with the Maori words for their colours and painted a poem by Andre Surridge on steps opposite Dunedin Town Hall.
The Dunedin City Council supported the Post project with a grant of $1000, and Resene sponsored the paint, Arnison said.
The Post project would be ongoing, with three more sets of Dunedin steps lined up to become canvases for poetry next summer, Arnison said.
BRENDA.HARWOOD @thestar.co.nz