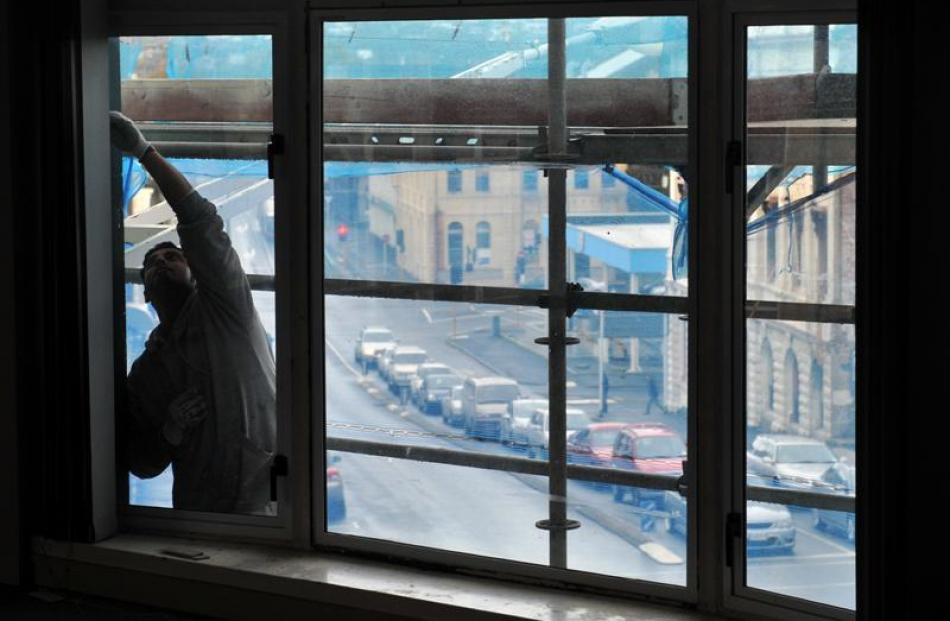 Home is where the heart is for a Dunedin software company.
Willis White and Co recently bought Stafford House, where it was founded in 1989, and started a comprehensive renovation of the prominent building this week.
The three-storey building, on the corner of Stafford and Manse Sts, is better known as ''Barton's Building'' after it served as a butcher's shop for more than half a century.
It was distinguished by a string of neon pink pigs on the veranda, green lambs on the parapet, a large bullock and a top-hatted pig.
''It is a Dunedin landmark building. It's part of Dunedin's history. I remember it as a kid,'' director Andrew White said this week.
''Most people still associate it with Barton's, with the pigs going around the corner and the bull on the roof. I hope people continue to refer to it as 'Barton's Building'.''
The distinctive neon signs were lit up in 1946, when George Barton jun returned from World War 2 and joined brother Reg at the business.
''After the war, all of the town was dull and dreary. We thought the place needed brightening up, so we decided to make a statement,'' he reportedly said at the time.
The building also houses an air raid shelter, built after the Japanese bombing of Darwin in 1942.
The location was a good fit for the expanding software company, Willis White and Co director Chris Willis said this week.
''We looked at a number of buildings and, from our point of view, it was ideal. It's got good bones. It's also in a good central location, it's got big spaces and some character,'' he said.
''It is a vote of confidence in the area. We're seeing a renaissance in the Exchange.
"It just needs more people to invest in these sorts of buildings. That's one of Dunedin's things; it's got great heritage buildings. But a lot of buildings have been let go and get in a downward spiral.''
The company has undertaken a comprehensive renovation of the building.
Scaffolding went up this week, with plastering work and painting (''an elegant grey, with white highlights'') to follow.
''We're bringing it up to the 21st century and putting in ducted air heating, fibre optics, LED lighting and the latest technological things in it.
"You can have the best of both worlds: old and modern at the same time. It's going to take a couple of years to do it right but we want it to be here another 100 years.''
Mr Willis declined to reveal the cost of the refurbishment, but said it was ''well into six figures''.
Accountants G. S. McLauchlan and Co bought the building in 1988 and spent a year redeveloping it.
''It had been badly neglected and there were rates owing on it. We took away 90 demolition truckloads of rubble when we gutted it. We had to put quite a bit of money into it,'' Gordon McLauchlan recalled this week.
Mr Willis said the previous owner had been ''a very good custodian''.
''They rebuilt the building behind the facade, which is listed in the district plan as a significant structure. It's all reinforced with steel and is up to 100% of the earthquake standard.''
''It's a very good design on a very prominent corner,'' Dunedin historian Peter Entwisle said this week.
''It's not badly compromised. It's very much as it was when it was built in 1928.''
Hocken Library archivist David Murray, who wrote a history on the building, said it had resonated with him since childhood.
''It's got such a rich history. It's partly the architecture, partly the nostalgia and partly the social history. I was always fascinated by the neon signs. Parents would slow the car down so the kids could look at them.''
Barton's closed for the last time on January 29, 1980.
The top-hatted pig now resides in Toitu Otago Settlers Museum and some of his porcine playmates trot along outside Miller Studios, in Anzac Ave.
---
Stafford House
Formerly Barton's Building.
Built: 1928.
Architect: William Henry Dunning (1872-1933).
Builder: G. Lawrence and Sons.
---