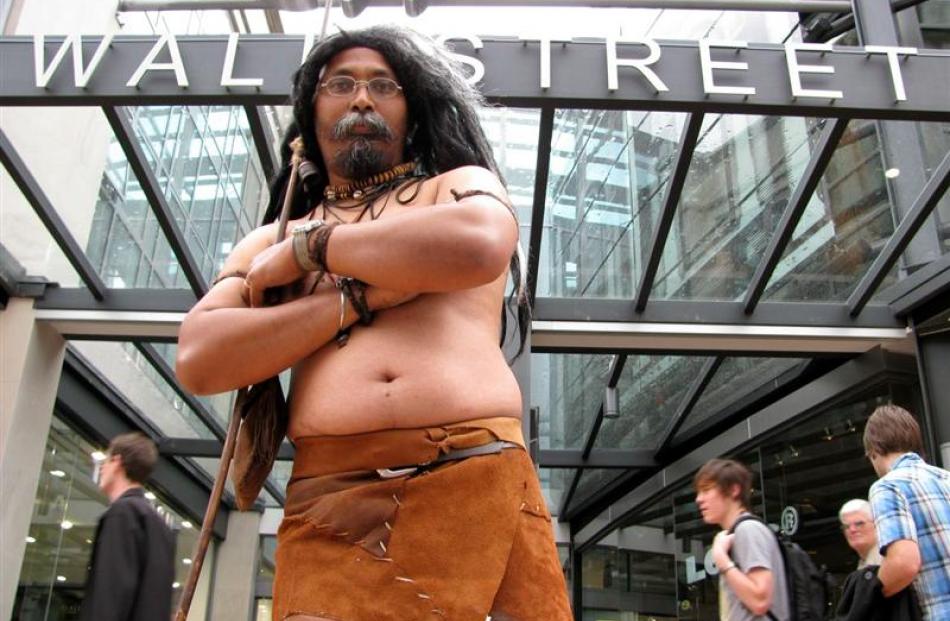 The Dunedin Fringe Festival got a bit X-rated yesterday.
German-born Sydney artist Sylvia Schwenk brought Octagon lunchtime traffic to a standstill with her "X Performance", featuring a large "X" made from local bodies.
"It's about connecting art and life. A lot of people don't go to art galleries and museums, so this is bringing art to them," she said.
"It's the last performance in the series. We've done this in Sydney, Saigon, Cologne and, now, Dunedin."
The international flavour of the Fringe Festival is not restricted to the performers.
Mexican resident Daniel Robinson (71), of San Miguel de Allende, in Guanajuato, caught the eye at the Festival Club on Thursday night when he danced up a storm to win a prize of festival tickets from MC Te Radar.
"I love the atmosphere of this festival. There are so many things to do and it's all so accessible," Mr Robinson said.
"In Mexico, most activities of a cultural nature focus on the English-speaking expatriate population. I'm baffled why, because Mexico has a very old culture."
Otago Polytechnic School of Art painting and drawing lecturer Sudhir Duppati was yesterday out on the Dunedin streets in a loincloth, exploring old culture.
"It's a critique of civilisation. I'm trying to question the idea of progress," he said.
"Are we really advanced? Are our ancestors superior to us in terms of intellect and lifestyle? What's progress all about? What are we trying to achieve?
"As John-Paul Sartre said: 'We are not what we are. And we are what we are not'."
I caught Das Roq Opera at the Globe Theatre last night and it was wonderful.
If you haven't seen it yet you're probably not going to as every performance has sold out.
Das Roq Opera is on for the final time tonight.
Earlier, I saw US poet Nikki Patin's entertaining and moving show, The Phat Grrrrl Revolution, at the Fortune Theatre, as she reflected on life and humanity.
Don't miss the Busking Blitz in the Octagon from midday till 4pm today and Dunedin's Tui award-winning Delgirl and friends perform in Fringe Folk at the Fortune Theatre tomorrow.
The fun winds up every night at the popular Festival Club at XII Below, next door to the Blue Oyster Gallery in Moray Pl.