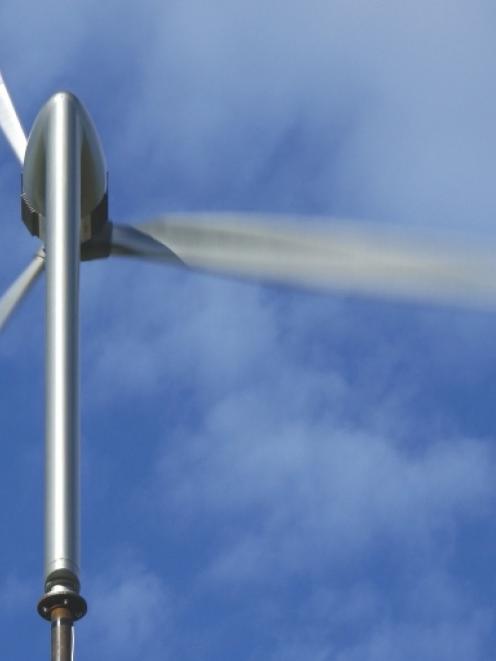 A small Dunedin business is in a spin after its Thinair personal wind turbine and complementary business system won the Otago round of the 2010 New Zealand CleanTech Challenge.
Powerhouse Wind Ltd co-director Bill Currie said the turbine could be attached to any household to generate electricity, and was an exciting step towards creating a mix of energy appliances for "the future zero-energy home".
The former Electrocorp and Fisher and Paykel engineer has been working with a team of directors at Powerhouse Wind Ltd with similar engineering experience, and come up with a wind turbine which is like a household appliance.
"You can just plug it in and leave it to do its job," he said.
"To be appliance-like, it has to be easy to install, easy to use, quiet and reliable. And of course, it has to perform well and be good looking."
Powerhouse Wind's entry was praised by judges Mark Miller from the Otago Institute of Design, Clare Ramsay from the Otago School of Business, Bob Lloyd from the University of Otago Department of Physics, and Mike Horne from Deloitte in Dunedin.
The competition, developed by the Otago Polytechnic, challenged New Zealanders to put forward their most promising clean technology concepts for new products, accessories, communications campaigns and building designs.
The criteria dictated designs were to be affordable and support great living with less reliance on resources.
Mr Currie would now compete in the national final in Wellington for a place at the CleanTech Open global finals in San Francisco on November 17 where they could win $140,000.
CleanTech Challenge co-ordinator Tim Bishop hoped the challenge would help take New Zealand innovations to the world.
"We are looking for revolutionary ideas such as these for generating clean energy, alongside ideas for better ways to filter water or more efficient building systems.
"However, having an idea is but a small part of the bigger challenge.
Our goal is to raise the profile of these concepts so that they may find the support to successfully develop and market saleable products and services globally."
Mr Currie was delighted with the award and the company was now looking for investors to help produce the Thinair wind turbine for the consumer market.
Two other regional contestants were commended by the Otago judging panel for their innovative ideas.
Andrew Robinson proposed a renewable energy concept using wasted fruit to create fuel-grade ethanol to allow Central Otago farmers to continue operating farm machinery in a post-peak oil age.
Mark Fuller put forward an air, water and waste concept, based on creating a database-driven website which would act as a platform for paper-reducing technologies.