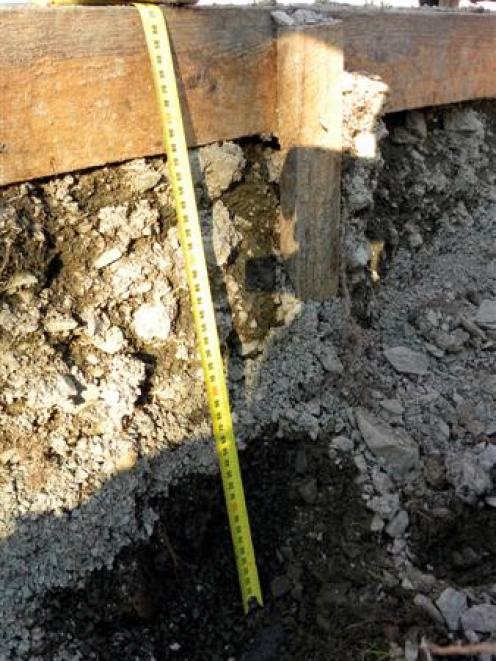 Newly-elected Dunedin city councillor Lee Vandervis has criticised Energy Safety for failing to fully investigate damage to an 11,000-volt power cable in Mosgiel.
Energy Safety - part of the Ministry of Economic Development - this week confirmed a lack of "sufficient evidence" meant a full investigation into last month's accident would not be carried out.
That was after a volunteer working for Mr Vandervis pierced an 11,000-volt power cable buried beside Quarry Rd, Mosgiel, while hammering in a steel peg to secure an election sign.
The damage caused the cable to fail later, cutting power to 747 consumers, but Mr Vandervis said it was lucky nobody was killed.
A spokesman for Aurora Energy Ltd - the Dunedin City Council company that owned the cable - agreed "the potential for serious harm was present".
Energy Safety launched an initial investigation after council staff said Mr Vandervis was not at fault, and the presence of the cable under the designated election advertising site was not known.
However, ministry spokeswoman Tracy Dillimore told the Otago Daily Times the initial investigation had found the cable was buried at an appropriate depth, 670mm underground, and was protected by a buried shield as required.
She also stressed the incident was not "reportable", because nobody was injured, and she blamed Mr Vandervis' volunteer for installing the sign outside the designated election site.
The claims were rubbished by Mr Vandervis as "a barefaced blatant misrepresentation of the truth".
He provided the ODT with a photograph he took, which appeared to show part of the same 11,000-volt cable buried, without protection, at just 475mm.
New Zealand rules did not stipulate minimum depths for cables, but Australian codes required 750mm for protected high-voltage cables and 900mm for unprotected cables.
The damaged cable was maintained on behalf of Aurora by Delta Utilities Services, another council-owned company.
Mr Vandervis said Delta had "a major problem on their hands" if other 11,000-volt cables were buried at shallow depths.
"If they're burying 11,000-volt cables without any protection two feet in the ground, they are going to have millions of dollars in liability for the first digger driver that hits one and kills themselves.
"I have discovered a problem and it needs to be publicised to prevent someone from actually getting killed.
"We came close."
Ms Dillimore would only say the section of cable photographed by Mr Vandervis was not the damaged section, which she insisted was buried at 670mm.
Mr Vandervis said he photographed an undamaged section of the same cable, a few feet from the damaged section, because a measurement tape could run straight down to the undisturbed section of cable.
The photograph still showed an 11,000-volt cable buried at a dangerously shallow depth, he argued.
Claims his sign was installed outside the election sign site were also "absolute lies", as the sign was on grass at the designated zone and alongside other candidates' signs, he said.
An ODT photograph taken last month appeared to back his claims, showing the damaged cable was under grass about 1m from a nearby footpath.
The ODT also found Energy Safety's investigation involved speaking to Delta staff, but not council staff or Mr Vandervis, despite Energy Safety operations manager Mark Wogan saying last month "different people who are involved" would be spoken to.
Ms Dillimore said the claim Mr Vandervis' sign was in the wrong spot was based on a council map, provided by Delta staff, showing election advertising zones.
She could offer no further details, referring questions to council staff.
Council resource consents manager Alan Worthington, who oversees the election sites, said he was not aware of the claim.
Delta chief executive Grady Cameron declined to be interviewed, saying in an email it was "not appropriate" to comment.