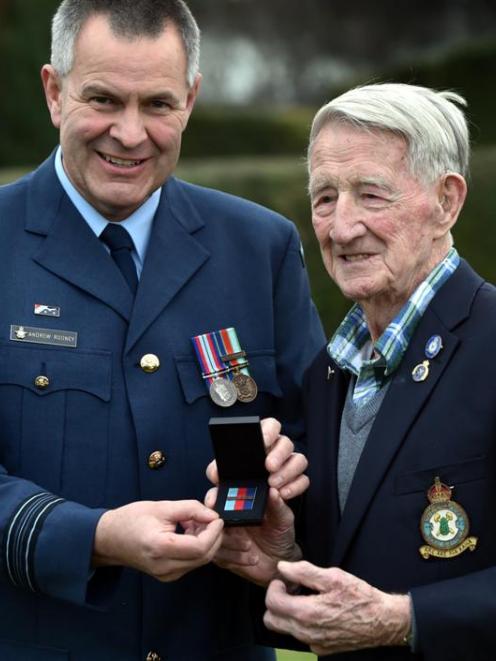 When Andrew Rooney showed up at Don Mackenzie's Dunedin house on Saturday, the 90 year old didn't know what was happening.
''He thinks it's just the family gathered,'' one family member whispered.
Then, Mr Rooney, a Royal New Zealand Air Force liaison officer and former squadron leader - began to speak to Mr Mackenzie and the small gathering of his family and friends.
''It's pretty special to be able to come here and present this to you,'' Mr Rooney said.
He held the Royal Air Force Bomber Command clasp he had come to present to Mr Mackenzie for his service with 75 Squadron during World War 2.
Mr Mackenzie was a wireless operator and tail gunner in Lancasters, and undertook numerous bombing missions over Germany towards the end of the war.
He also volunteered for Operation Manna for three pre D Day flights, which dropped food into the enemy occupied Netherlands for the starving population.
Mr Rooney said he was ''honoured'' to present the clasp ''as a former 75 Squadron member myself to a fellow 75 Squadron member from a totally different era''.
He spoke of the ''staggering number'' of Bomber Command personnel who were killed or wounded during the war, saying it was ''hard to imagine ... what [they] went through''.
''We have been blessed by their sacrifices,'' he said.
Amid applause at the end of Mr Rooney's presentation, Mr Mackenzie showed himself to be a man of few words.
''Thanks everyone,'' he said.
His wife, Lynley (82), smiled and wept throughout Mr Rooney's speech.
Mr Mackenzie said he was happy to have received the clasp, and that it had been a total surprise.