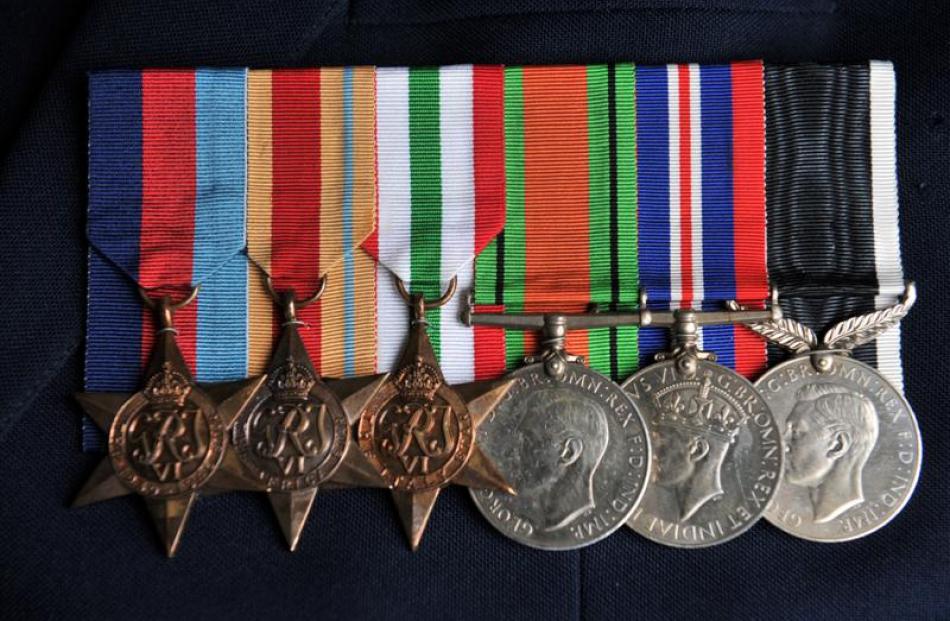 Almost 70 years after World War 2 ended, Gerald Huntley can still remember the sound of bombing raids in Italy, the stifling heat of Egypt and the beauty of ''that woman'' across the ballroom.
Mr Huntley (95), of Mosgiel, served in the New Zealand Army for four years during World War 2.
He sailed from Wellington with the 6th Reinforcements of the 2nd New Zealand Expeditionary Force on board RMS Aquitania.
''We never got off the boat until we got to Egypt. It must have taken six weeks,'' he said.
While six weeks aboard a ship without leave was ''bloody awful'', it was not as dangerous as the threat of German U-boats and aircraft.
''Everyone used to say in those days Britain controlled the waves, but at that stage they didn't - Germany did,'' he said.
The threat of Germany's forces became apparent when the Aquitania passed MV Georgic in the Gulf of Suez.
''We could hear a bit of thumping in the morning. Then, when we went around to Port Suez, the Georgic was on fire,'' he said.
''We all believed that Britain controlled the seas, we always thought that's true. But it was just bloody luck we got away with it [travelling on RMS Aquitania] because Britain was in a bad way there.
''Boats were being sunk everywhere.''
Mr Huntley was unaware at the time that the Aquitania passed through a German minefield. He found that out after the war, but also that the mines were ''duds''.
When he arrived in Egypt, he served six months with the infantry.
''Out in the desert people used to say you could fry an egg on the bonnet of your car, and that's no exaggeration,'' Mr Huntley said.
He served with the 6th Infantry Brigade and was going to volunteer for a new anti-tank brigade before he was advised by a colleague to ''never volunteer for the army''.
''He said 'Go where they bloody well put you, but never volunteer','' Mr Huntley said.
The troops of the brigade were ''massacred'' and he felt ''very lucky'' not to be among them, he said.
After serving with the infantry, Mr Huntley joined the New Zealand Army Service Corps and was in charge of bulk distribution stores at the New Zealand Forces Club in Cairo.
His role took him to Italy in 1943 and during the last two years of the war he served for the service corps in Bari, Lucera, Atessa, Castel Frentano and Senigallia.
It was in Senigallia that he met his future wife.
At a dance organised by New Zealand forces, Mr Huntley noticed ''one of our chaps was standing over the other side of the room talking to this woman''.
''I thought she didn't look too bad from where I was,'' he said with a laugh.
''He came over and I said, 'What's her name?' And he said, 'That's funny, she wanted to know what your name was as well.''
Her name was Edna Madsen and the pair were seldom apart for the rest of the war.
It was Mr Huntley's application to get married that brought Miss Madsen home.
''I came back home [in September 1945] and New Zealand brought out a new regulation. It came out to me from Italy that I could claim my fiancee,'' he said.
''I got a reply within two or three days saying 'your fiancee will be on the next boat home'.
''She arrived home on the 23rd of December and we got married on the 12th of January.''
His greatest regret was never being able to return to Italy with his wife, as Mrs Huntley became ill and died several years ago.
Mr Huntley would be part of the Mosgiel Memorial RSA parade on April 25, as would his grandson Phillip Huntley.
The opportunity to see old friends again was a highlight, although the number was ''getting smaller every year'', he said.
---
Anzac Day services
• Brighton: Speaker Pastor John Stoddart. Parade 10am at the Brighton Domain. Service at Brighton Hall at 10.15am.
• East Taieri: Posy-laying at the East Taieri Cemetery at 8.30am. Mosgiel Girl Guides will distribute posies to people who wish to place flowers on the graves of family members who were war veterans. Arranged by the Women's Section of the Mosgiel Memorial RSA.
• Green Island: Speaker Fr Michael Dooley. Parade 10am at Civic Hall. Service at St Peter Chanel at 10.30am. Wreath-laying at Green Island Memorial Gardens at 11.15am.
• Middlemarch: Speaker Cr Mike Lord. Parade and service at the Middlemarch war memorial from 11.15am.
• Mosgiel: Speaker Rev John Sinclair. Parade 9.15am at Mosgiel Memorial RSA clubrooms to the Mosgiel Cenotaph. Service at the MMRSA clubrooms at 10am.
• Outram: Speaker ODT editor Murray Kirkness. Parade 11.15am, from the Outram Community Centre to the Soldiers' Memorial.
• Waldronville: Posy-laying at the Green Park Cemetery at noon. A free bus courtesy of Otago Road Services leaves for Green Park Cemetery from outside the Civic Hall at 11.45am.
• Dunedin: Service at Queens Gardens Cenotaph at 6.30pm. University of Otago service at the University Clock Tower Building at 1.30pm.
---