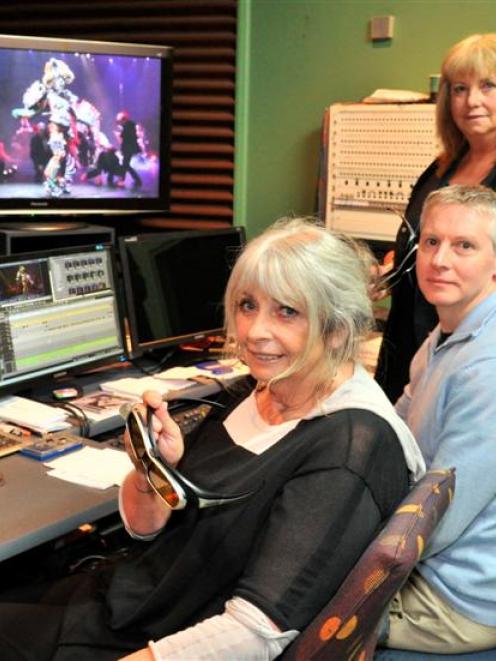 World of Wearable Art founder Dame Suzie Moncrieff walked into a world of watchable art in Dunedin yesterday.
Dame Suzie made a day-long dash to the city to see a newly completed 3-D film, made by Dunedin company the Video Factory, marking the 25th anniversary of the awards show.
''We came down specially for a sneak preview of the film and I'm absolutely thrilled with it. I knew it would be pretty amazing, but it's mind-blowing,'' the down-to-earth Dame Suzie said.
''It's about the actual show itself and seeing the garments in 3-D is amazing. It's like you're sitting there in the front row. You're seeing several garments at once and the close-up detail is very vibrant. You really do feel like you're actually there, at the show.''
Dame Suzie said she conceived the show when she was ''a sculptor with a small gallery near Nelson''.
The inaugural 1987 event was attended by 200 people on a rainy night in a marquee in Spring Grove, near Nelson.
''It's hard to believe it's been 25 years,'' she said.
''The wonderful thing about it is that it changes every year. But that's also the challenge; to keep making it better every year.''
The World of Wearable Art Awards Show is now attend by more than 50,000 people each year and generates an estimated $15 million for Wellington's economy.
Dame Suzie was made a dame in the 2012 New Year's Honours list for her services to the arts.
Economic Development Minister Steven Joyce last month announced a $900,000 project to promote WOW initiatives internationally, including touring exhibitions in Asia, Europe and North America.
''This plays to our character, our strengths and represents the way we are viewed internationally,'' Mr Joyce said.
Dame Suzie and her sister, WOW competition director Heather Palmer, returned to Wellington yesterday afternoon.
The 2014 World of Wearable Arts is being held in Wellington from September 25 to October 12.
Tickets are on sale from February 1.