The South's lacklustre summer continued today, as wild winds batter the region, downing trees throughout Dunedin and causing power outages.
Strong winds have lifted roofs from several homes in Dunedin this afternoon from Portobello to Kenmure.
One house in Kenmure Rd was left without several panels of its roofing iron which blew onto neighbouring properties.
Part of Kenmure Rd has been closed while lines companies make repairs to power lines.
An Otago Daily Times photographer said power was out in several areas in Mornington, Kenmure and Maryhill.
A tree has broken and fallen, and is now leaning against a house, near Portobello.
A Fire and Emergency New Zealand spokesman said a crew from Portobello was called to Waikana St, at Broad Bay, at 2.33pm.Firefighters were working to remove the tree, he said.
It was unclear if it had caused any damage.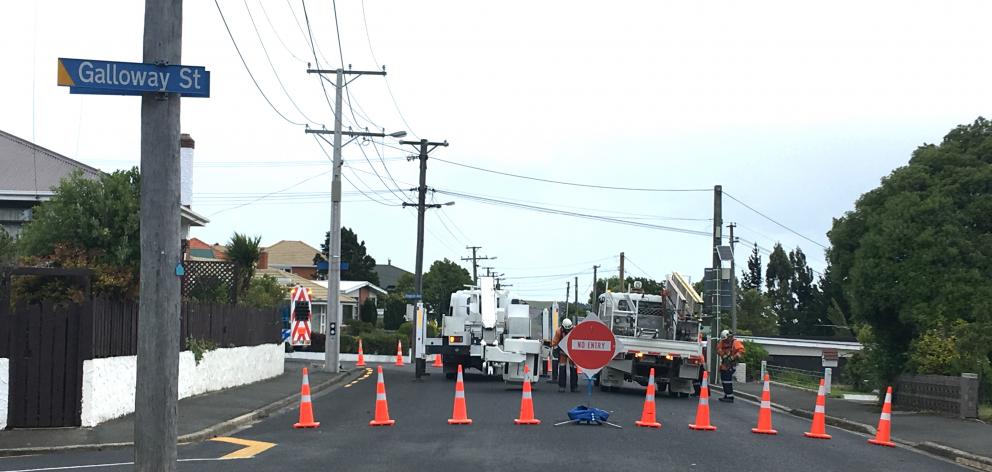 Multiple calls to emergency services
Police received calls about four different trees down in the Dunedin District within 45 minutes.
Fire crews also helped secure loose roofing iron which was being lifted by the wind in Fryatt St.
A police spokeswoman said police were called to Pine Hill Rd at 1.30pm, where a large tree had come down and was blocking both lanes.Shortly after they were called to Puddle Alley in Mosgiel, where a tree had come down. A passer-by had moved the tree off the road.
Two calls came in at 2.15pm.
One was a tree that had come down on a car on Andersons Bay Rd, while the other came down on Campbells Rd in Pine Hill and was blocking the road.
The Dunedin City Council was dealing with most of the incidents, she said. 
Some flights affected
A flight due in from Wellington was cancelled this morning due to wind.
A Dunedin Airport spokeswoman said a flight arriving from Wellington at 10.30am was cancelled.
A subsequent departing flight to Wellington was cancelled.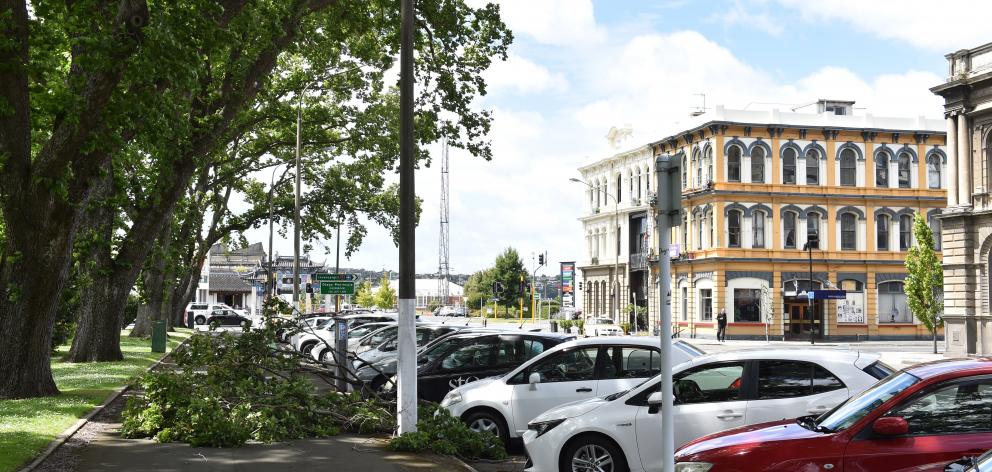 A later flight from Christchurch at 12.50pm was able to land, she said.
No other flights had been cancelled.
Further flight updates could be found on the website, she said. 
Strong wind watch
MetService has warned severe gales could continue to gust up to 130kmh in exposed parts of Dunedin and North Otago until early tomorrow morning.
A spokeswoman said a deep low lies southeast of New Zealand, directing a strong southwest flow across the country, bringing severe gales to some exposed areas.
An Orange Warning was issued to Dunedin earlier today, but MetService has now included North Otago in the warning.
West-to-southwest gales were expected to gust to 130kmh in exposed places in the areas until about 1am tomorrow, she said.
"Strong wind gusts could damage trees, power lines and unsecured structures.
"Driving may be hazardous, especially for high-sided vehicles and motorcycles."
Winds have now eased over Southland and Clutha, and the warning for these areas has now been lifted, she said.
People are advised to keep up to date with the latest forecasts in case any changes are made.
This followed a wet and windy weekend that brought down power lines and sent wheelie bins flying in Dunedin on Saturday, and led to two cruise ship cancellations.
Wind gusts reached 57kmh on Saturday morning. Power was out for a short time in some parts of South Dunedin on Saturday evening, after power lines on Riselaw Rd were damaged.
There was fresh snow on the mountains west of Wanaka this morning, but it was thawing quickly.
The weather has affected cruise ship visits.
Viking Orion, which has a capacity of 930 passengers, was due to arrive on Saturday.
Norwegian Jewel, which has a capacity of 2376 passengers, was due to arrive on Tuesday.
Both cancelled their visits because of the strong wind warnings.
That would hit businesses in the pocket, Otago Chamber of Commerce chief executive Dougal McGowan said.
"Safety has to be the paramount concern," he said yesterday.
"But it does have a significant effect on businesses, especially if it happens on the day, because they may have already organised additional staff, or transport."
Having cruise ship passengers in the city helped to offset the cost of locals heading out of town during the holiday period, he said.
"Any dollar shops can get in is an added bonus."
High winds in Invercargill
Firefighters helped protect people from flying debris as Invercargill was hit by high winds late on Sunday afternoon.
Firefighters from Kingswell station were called to Ottrey St at 4.22pm after a piece of roofing material from a nearby woodshed roof had "taken off" and landed on the street, a Fire and Emergency New Zealand spokeswoman said.
The firefighters cut up the material and returned it to the owner's property.
Central Invercargill firefighters were in action in Doon St at 5.15pm to secure a garden shed, and to prevent a nearby house from being damaged by flying material, the spokeswoman said.