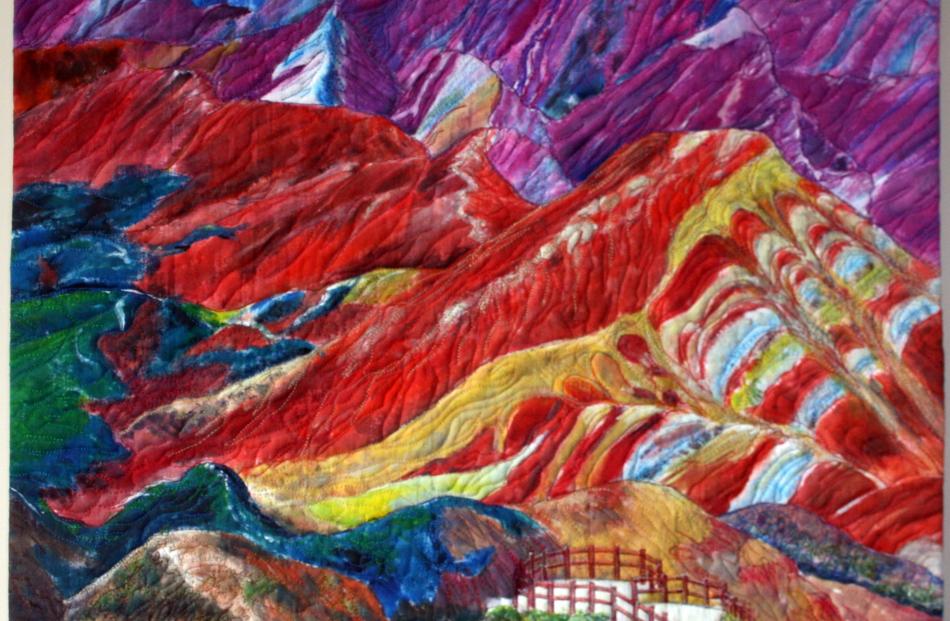 A "lucky chance" is bringing an international quilting exhibition to Dunedin next month.
"Natural Wonders of the World" is the result of a challenge to quilters in Japan, France and New Zealand last year and features interpretations of 30 natural wonders, worldwide.
Ninety quilters from were each provided with a small picture of a natural wonder, each one being allocated to a quilter from each country, allowing three different perspectives.
When the resulting exhibition was on in Rotorua earlier this year, a member and former president of Quilters and Patchworkers Otago, Isabel Nielsen, was holidaying in Hawke's Bay.
"I saw Natural Wonders was on in Rotorua and asked my husband to drive the two and a-half hours from Hawke's Bay so I could see it.
"I was completely blown away."
It was an exhibition not only of interest to quilters but also to other artists, she said.
When she saw it was not coming further south than Ashburton, Mr Nielsen did some checking. She realised there were enough empty days in the schedule for "Natural Wonders" to come to Otago.
The local committee quickly arranged to bring the 90-piece exhibition to Dunedin where it will be on display for three days at The H D Skinner Annex of the Otago Museum, from May 11-13.
One Otago quilter, Mathea Daunheimer, of Oamaru, has a piece in the exhibition. She is one of three asked to interpret a natural ice cave in Iceland.
Of the 30 natural wonders featured, three are from each of the three countries involved, the remaining 21 being from all around the world.
New Zealand's three wonders are the Moeraki Boulders, Aoraki Mt Cook and Wai-o-tapu.
Aotearoa Quilters president Mary Culver, of Palmerston North, said the challenge was "very popular".
New Zealand had developed its own unique style of quilting. A growing number of quilters liked using the smaller size pieces as a medium for their artwork. The exhibition quilts are 50cm-square small pieces rather than full-size quilts.
They are displayed with the topic named above the three different interpretations, allowing viewers to see the differences between the styles of the participating quilters.
The exhibition has been in Japan and goes to France in August.