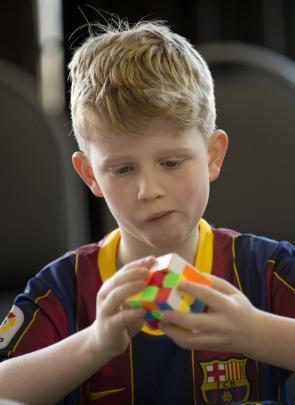 Getting lost on an Australian highway led to Dunedin boy Nate Vincent discovering his hidden talent.
Nate was one of the 55 competitors in the Southern Scramble Rubik's Cube competition held at Forbury Park during the weekend.
Faces of concentration were in abundance and the sound of clicking filled the room as competitors raced to finish the 3-D puzzle first.
Nate said it felt like his Rubik's Cube was going to "pop" during the 3x3x3 speed-cubing round.
He had only picked up his first Rubik's Cube a couple of months ago, when his mother got lost on a highway while visiting the Gold Coast, he said.
Their accidental detours led them to a stop at McDonald's and his meal happened to come with a small 2x2x3 Rubik's Cube, he said.
"I realised I could solve them really fast."
His mother bought him a "cheap" 3x3x3 and said if he could solve it, he could get a new, more expensive one, which he did.
Nate said cubing was "heaps of fun" and he particularly loved seeing the look on people's faces when he solved the puzzles quickly in front of them.
He also enjoyed coming to the competitions and getting to hang out with other cubers, he said.
World Cube Association delegate Alex Asbery said the speed-cubing competition had been held once a month across the country, but it was the first event to be held in Dunedin this year.
The winner of the final 3x3x3 cube round was Dwyane Ramos, with a best speed of 6.63sec.
Second place went to Adrien Auvray Matyn, who solved the cube in a best speed of 6.84sec.
Following in third place was Chris Mills, who posted a best speed of 7.29sec.