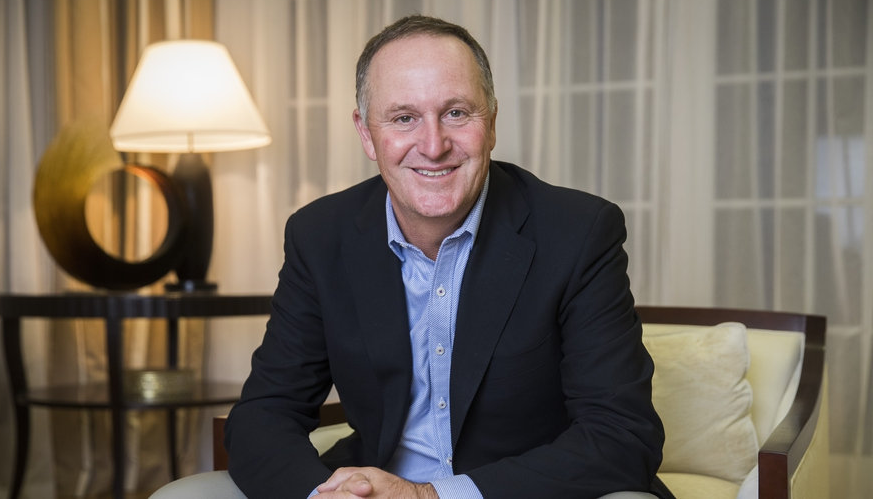 Sir John Key will be recognised with Australia's highest honour at a ceremony tomorrow attended by his old friend Malcolm Turnbull, Australia's Prime Minister.
Key will be appointed an honorary Companion in the Order of Australia in Canberra for his "eminent service to Australia-New Zealand relations".
A Companion is the highest ranking grade in the Order and reserved for 35 living Australians at any one time, although honorary appointments have been made to international figures with a close relationship with Australia.
Key said he was "completely shocked" but delighted when told of the honour.
"It reflects the closeness of the relationship as much as the individual. I always considered Australia to be our closest and dearest friend and so I tried hard to build a strong relationship with the Australian Prime Ministers that were there in my time."
Previous recipients include Nelson Mandela, Mother Theresa and oceans explorer Jacques Cousteau, as well as other former political leaders from other countries.
Only four other New Zealanders have been awarded it - opera singer Dame Kiri te Kanawa, former PM Sir Geoffrey Palmer, former Deputy PM Sir Brian Talboys and Australian-based scientist Professor Stuart Ross Taylor.
"Over the years, they've given them to at one level, Nelson Mandela and Aung San Suu Kyi, but at the other level - there's myself."
Key said Turnbull would attend the ceremony at Government House as well as his guests - Key's wife Bronagh, his former Chief of Staff Wayne Eagleson, Foreign Minister Gerry Brownlee and Murray McCully, who was Foreign Minister throughout Key's time as PM until May this year.
Turnbull was also hosting drinks for them in Sydney tonight.
He and Key are close friends. Turnbull listed Key as his role model when he became Prime Minister of Australia and on an official visit to Australia, in 2016, the Keys stayed at Turnbull's Piper Pt home - a sleepover tagged as "Pyjama Diplomacy" by Australian media.
However, Key said the honour did not mean he would stop badgering Turnbull about the rights of New Zealanders in Australia, even though it was not his job any more.
"I'll still do it. I will take the opportunity to reiterate those points."
Australia's Governor General, Peter Cosgrove, will invest Key at the ceremony.
The citation for Key said it was for "eminent service to Australia-New Zealand relations" and said in his time as PM between 2008 and 2016, Key had raised the transtasman relationship to "new heights of co-operation and mutual confidence".
It pointed to measures such as trade liberalisation, Pacific relations and the work with Australia's troops in Afghanistan and Iraq.
Turnbull said it was the highest Australian honour.
"My instant, dismayed, reaction on his retirement last year was 'Say it ain't so Bro'. He has been a great friend of Australia and has represented his nation, and our shared values, magnificently.
"Lucy and I look forward to seeing more of John and Bronagh this side of the ditch and perhaps John and I can venture out for another paddle before too long."
He added: "John was an outstanding leader of his country, and he is respected around the world for his influence in our region and beyond.
"As Prime Minister ... he was also deeply committed to advancing the Australia-New Zealand bilateral relationship and pursuing our common interests in the region and internationally.
"Australia and New Zealand share a unique and close partnership, underpinned by shared history and values."