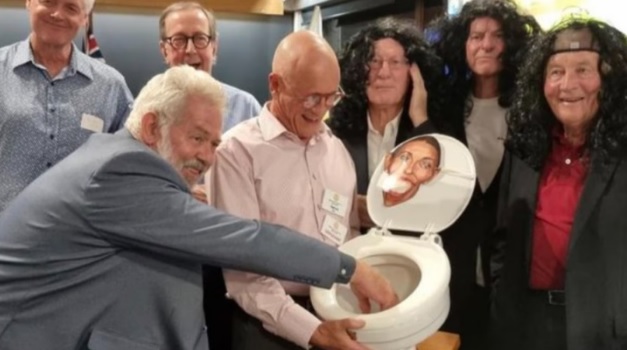 A "light-hearted" Rotary Club event has created a storm of anger and offence after photos emerged of what appeared to be a picture of former prime minister Jacinda Ardern's face fixed to a toilet seat lid.
Images were posted on social media and the website of the Rotary Club of St Johns of a group of men surrounding the toilet seat with the offending caricature seemingly stuck to the lid.
The posts containing the photos were removed soon after when it became clear people were offended and angry.
"Absolutely disgusting.," said one woman on Twitter.
"How sad that you work hard to support such worthy initiatives but your local chapter St Johns is promoting disgusting gutter politics against a woman prime minister. I thought Rotary was a non-partisan operation?" another person wrote.
A Facebook post read:
"Disgusted by disrespect shown by two club teams towards NZ's former PM. What adult puts a woman's face on a toilet seat? What woman would remain in a club that accepted that behaviour?"
Someone then replied: "Hideous. So called 'leaders of the community'. Disrespectful."
Rotary St Johns co-president Gary Key spoke to The New Zealand Herald about the situation this morning.
He wanted to apologise to anyone upset by the images and said the furore around them was regrettable.
"We're very, very sorry - absolutely we're very sorry," Key said.
"There was no intention to upset anyone - half our club are women and we are very proud of that."
He said the event on Thursday night was the annual debate between St Johns and Auckland East club chapters.
The subject of the debate was "who was the better Prime Minister - Jacinda Ardern or Robert Muldoon".
The Auckland East club were arguing that Ardern was the better leader.
Wearing long wigs and printed cartoon masks of Ardern, the team won the debate.
They were then given the trophy - an old ship's toilet seat that has been the winner's prize in the debate for more than 30 years.
Key said when the photos were taken someone in the winning team placed their mask atop the toilet trophy.
It was done in the moment and was meant to signify the team supporting Jacinda had won the annual debate.
Key said it certainly was not taped, stuck or fixed to the seat at any stage.
"It was a great night, but unfortunately the way it was portrayed and interpreted was not," Key said.
"It was something that was meant to be in good spirits."
Key said the clubs also erred in their choice of debate theme.
"Rotary is apolitical - so that was our first mistake, " he told the Herald.
Key said the club had posted an apology online but it had been "picked apart".
He and the other members were genuinely sorry that their evening had been so badly represented and misinterpreted.
He reiterated that there was no disrespect meant to Ardern or anyone else.
"They won the trophy because they argued she was the best leader," he said.
"People have read into this the absolute worst, unfortunately."