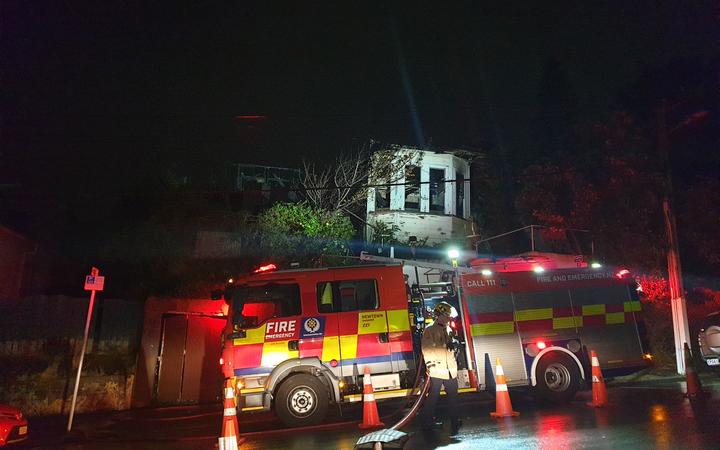 Four houses are burning in the densely populated Wellington suburb of Newtown, and one person has been injured.
The blaze in Hanson St spread from one house to its three neighbours, and at its peak, more than 20 fire engines were at the scene.
It was brought under control, but fire crews remained on site to monitor hotspots.
Fire and Emergency was called out at 10.40pm yesterday and the situation was quickly escalated to a level 5 alarm, which meant crews were summoned from as far away as Upper Hutt.
Some residents of Newtown speculated that the original house to catch fire was abandoned; however fire service duty manager Carlos Dempsey told RNZ it had been occupied.
He said no-one was unaccounted for, but one person had been taken to hospital. The state of their injuries was not known.
About 40 people had to be evacuated from the area.
Two houses have been burnt out and two more damaged.
A witness, Rebekah Parsons-King, said residents on Hanson St and Hall St in Newtown started smelling smoke about 10.30pm, and as people came out of their houses, they noticed smoke was filling the air.
"Police and fire crew started arriving. As they did, massive flames started flashing in the air," Parsons-King said.
The first house was fully engulfed by the time the engines started to fight it, she said.
Dempsey said not only the residents of the four houses on fire, but also those of the surrounding area, had been evacuated.
Surrounding properties were threatened for a time, and the firefighters had focused on keeping those homes safe, he said.
Senior station officer at Thorndon Brendon Wood told Morning Report the fire spread quickly from one old wooden villa to another.
"There was a slight breeze coming across which pushed the fire uphill to the adjoining property.
"The one where the fire appears to have started is totally destroyed and the adjacent house is beyond repair."
Two firefighters were treated at the scene for injuries and are back on duty, he said.
Wood said there was asbestos in the roofing of two of the houses.
Police and Wellington City Council staff had been co-ordinating a welfare response, getting residents into evacuation shelters for the night.
Specialist fire investigators were to start looking into the cause of the blaze at dawn.