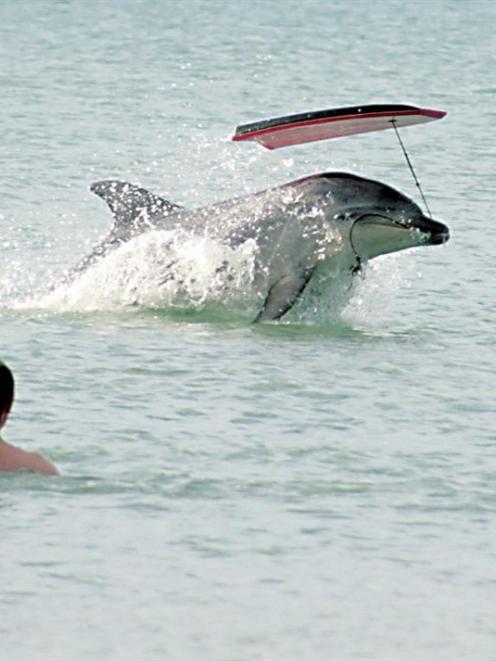 Moko the dolphin may have won the hearts of New Zealanders with her playful antics in the sea off the East Coast, but a dolphin welfare group is warning she may be in danger of getting hurt.
The 3-year-old bottlenose has been visiting Mahia beach since March last year and has now taken to bringing fish to people and playing with toys swimmers bring her.
But marine welfare organisation Project Jonah said people should take a "hands off" approach and give Moko her space.
"Moko has undoubtedly captured the hearts of Kiwis, but she is in danger of getting hurt if she isn't treated with respect, and those seeking to get close to her are also putting themselves at risk," Project Jonah chief executive Kimberly Muncaster said.
"Pictures of dolphins in captivity give people a false understanding of these animals.
"Although Moko is actively seeking human company, she's a wild animal, not a trained performer."
Ms Muncaster said bottlenose dolphins could be unpredictable and sometimes aggressive - both to each other and to humans.
Over the years, people had been bumped, rammed and bitten by dolphins, walking away from their encounter with cracked ribs, internal injuries and painful bruises.
"At the same time, dolphins can be accidentally hurt or injured by thoughtless swimmers or boat drivers.
"Whilst dolphins are strong and agile, they also have incredibly delicate skin," Ms Muncaster said.
"Fingernails, rings and watches can gouge chunks out of them and diseases can be passed from human to dolphin, and vice-versa. Flippers or fins can be easily dislocated, particularly if people drag, pull or hold on to them."
Boats should also be careful as dolphins were vulnerable to boat and propeller strike, especially those as friendly as Moko.
"If you're in a boat when she approaches, turn off the engine and remove any nets or fishing gear from the water.
"Alternatively, move your boat at slow to no-wake speed and keep a straight path to avoid running her over," Ms Muncaster said.