Dates and times have been locked and loaded for the two dozen upcoming firearms amnesty collection events in the South.
Starting next month, police will hold nearly 200 collections across the country as part of the amnesty and buyback, following gun law changes enacted after the Christchurch terror attack.
The 24 collections in Otago and Southland will take place at locations ranging from rugby and yacht clubs to racing tracks to an army hall.
The first collection south of the Waitaki is set for July 19 at the Taieri Rugby Club in Mosgiel, while the last will take place on September 22 at the Marakura Yacht Club in Te Anau.
Amendments to the Arms Act mean some semi-automatic firearms and pump action shotguns are now banned, along with certain capacity magazines, with limited exemptions.
There are also controls on who can possess parts of prohibited firearms.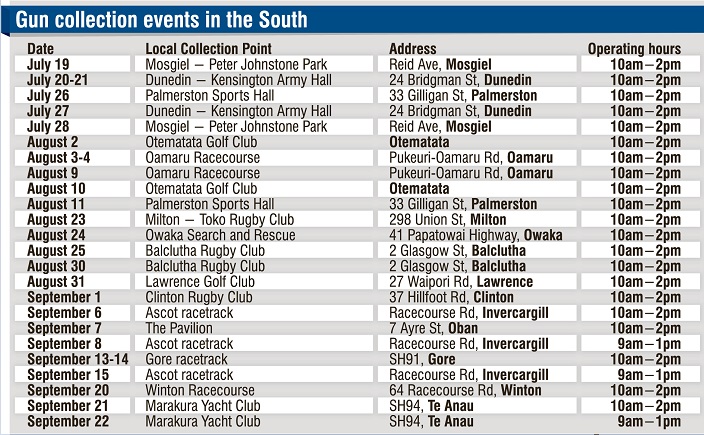 The gun buyback started last Thursday and will run until December 20, paying 95% of a base price for weapons in new or near-new condition, 70% for those in used condition and 25% for those in poor condition.
Collected firearms will be destroyed.
The base price is the gun's value minus the profit margin put on a firearm when sold.
Deputy Commissioner Mike Clement said police wanted to assure the public the events would be well-planned, efficient and have strong safety measures in place
''We want to make it as easy as we can for people to do the right thing and hand in their firearms.''
Gun owners were urged to complete the online notification form to speed up the hand-in process, and place firearms, cleared of ammunition, in a safe carry bag.
''It's police preference that firearm owners hand in firearms at these collection events.''
Federated Farmers said it was pleased with the number and geographical spread of the events.
However, its firearms safety spokesman, Miles Anderson, said there was concern as to whether the four hours allocated for the events would be enough.
''Farmers were worried they'd have to travel many miles to turn in and be compensated for these firearms but it appears our concerns have been met.
''Only time will tell whether the four hours allocated for the handover process in each town, and available personnel, is sufficient given the inevitable debates over compensation amounts for various firearms,'' Mr Anderson said.