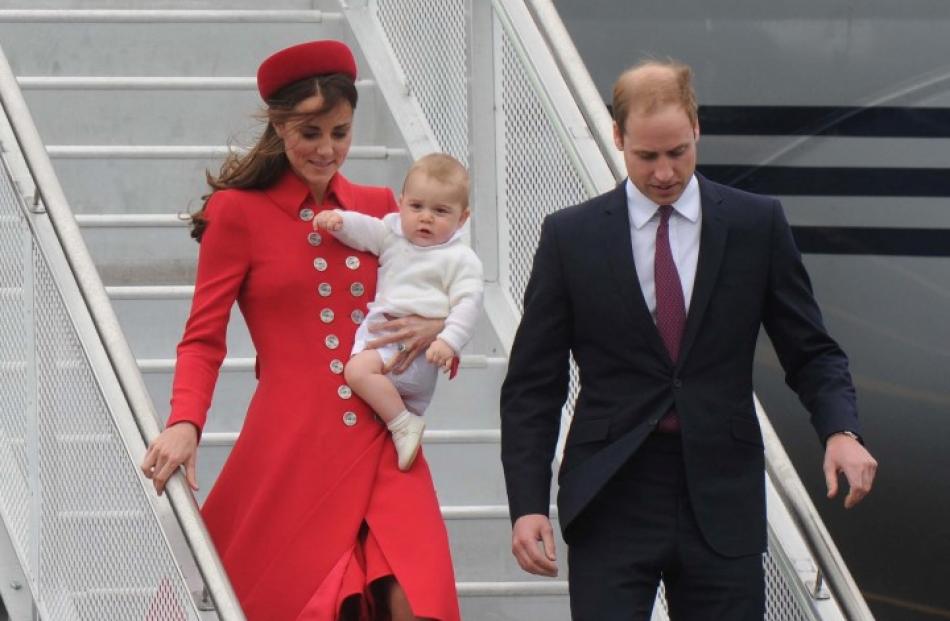 Prince William, his wife Catherine and baby George breezed into the capital on a strong southerly and seem to have charmed everybody they met.
The family were resting at Government House in Wellington this evening after a ceremonial greeting on the front lawn by kapa haka groups from the Defence Force and local school children.
The ceremony was watched over by Prince George, who was being cared for away from the cold blast in the warmth of Government House, but who could be seen at a window on the second storey.
The Duke and Duchess of Cambridge are in the country for nine days and will visit centres around the country.
After touching down in a Royal New Zealand Air Force Boeing 757 at Wellington airport's military terminal just after midday, waiting local and overseas media were given the chance for a decent look at the latest heir to the crown, with Catherine holding Prince George in front of her as she stepped off the aircraft.
They were met by the Governor-General's aide-de-camp Commander Richard Walker, Prime Minister John Key, his wife Bronagh, and Wellington Mayor Celia Wade-Brown.
Their arrival was met with cheers from hardy members of the public who had gathered near the security fence outside the military terminal.
Royal-watchers were happy to be lashed by cold winds and drenched by driving rain to catch a glimpse of the high-profile visitors as they sped by in their motorcade around the bays.
Not even a 20-minute delay to the flight's arrival, caused by stubborn, heavy fog that descended on the capital could dampen spirits of those waiting along the route.
Many fans waved British flags and High Five Early Education centre, which was on the royals' motorcade route had decked their windows with a welcome sign and a Union Jack.
Catherine wowed fans, wearing a stunning Catherine Walker scarlet coat, a matching Gina Foster hat, and a silver fern brooch which was gifted to the Queen on her 1952-53 tour of New Zealand.
The couple maintained their friendly and down to earth reputation by speaking to a number of school pupils who had been invited to Government House.
Rongotai College students performed a haka for the pair and afterwards, they spoke with the group's leaders - 17-year-olds Conor (crrct) Flynn and Luka Hogervorst.
Conor said the couple apologised for making the group stand for so long in the cold.
"They were really friendly - they were nice and more down to earth than I was expecting."
Luka said being at the ceremony was a "once in a lifetime" opportunity.
A 21-gun salute echoed around the area, as the band played God Save the Queen and New Zealand's national anthem, while Prince William took time to inspect the Guard of Honour.
School children from Clyde Quay School, Muritai School and Petone Central School were also treated to a royal chat.
Billy Firth, 12, said Catherine told the group they all looked beautiful.
"They weren't like what I thought they would be like - I thought they would be posh and wear make-up, but they looked really normal. It was cool."
Kaya Nielsen (crrct), 11, gave the Duchess a letter she had written.
"I just wrote to her 'Good luck and I hope the weather doesn't ruin the letter and you look beautiful', which she did."
Kaya completed the letter with a drawing of the family's names topped with crowns.
"She said that it was a wonderful picture and then she read the letter."
Ten-year-old Mia Murdoch gave Catherine a bunch of pink and white flowers from her mother's garden.
"She asked me what my name was and if I chose the flowers that I gave her."
Prince William also impressed the children, with 12-year-old Sally Bird describing him as "swish".
The couple's next official engagement will be at Government House on Wednesday with a visit by Plunket and a group of parents with their own 8-month-old children to show off.