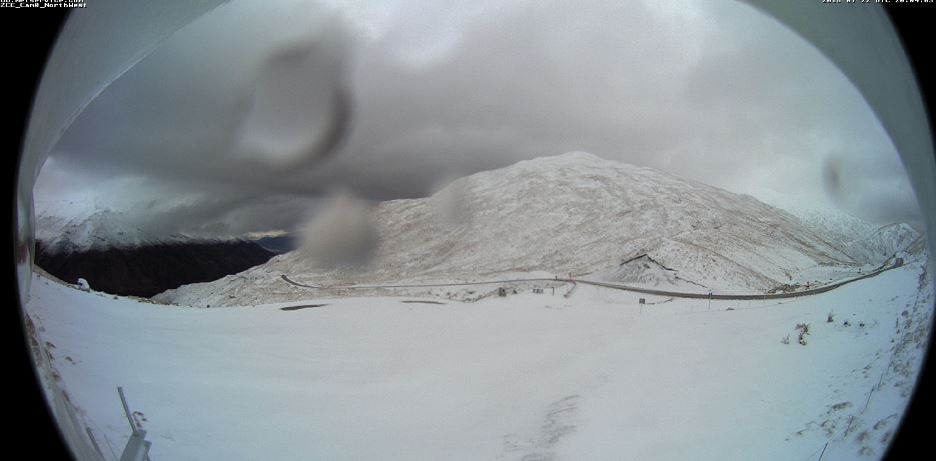 Snow overnight has closed a main South Island alpine pass and MetService warns of further snow to 500m today.
A cold front passed over the country last night exiting to the northeast leaving behind it a cold, showery westerly flow, MetService meteorologist Karl Loots said.
This front was behind some bursts of rain across the country last night, particularly in the east of the North Island, and pockets of heavy snow in the South Island.
The NZ Transport Agency said Lewis Pass (State Highway 7) had been closed from the Hanmer turnoff to Springs Junction due to snow.
Heavy rain and snowfall caused the Crown Range Rd to close this morning for a time, but it had reopened by 8am.
Queenstown Lakes District Council announced the road was closed shortly after 6.30am.
Gritting and snow clearing took place on the road as the council warned of "wet roads across the district'' and icy patches in shady, sheltered spots.
Council communications adviser Campbell Weal urged road users to take it slow across the district.
"With all the rain we've had, there's also a higher chance of surface flooding and rockfalls around the district.''
Higher rainfall caused more water to enter the ground and forced the water table to rise above normal levels.
The road opened again at 8am, but motorists were advised to carry snow chains. 
In Central Otago Dansey's Pass was restricted to 4WD vehicles due to snow.
The Milford Rd was closed from the Hollyford Rd to Chasm because of a moderate avalanche hazard.
The road would likely open this afternoon.
MetService said a further 10 to 15cm of snow could fall on the road above 800m this morning and early afternoon, with lesser amounts down to 400m.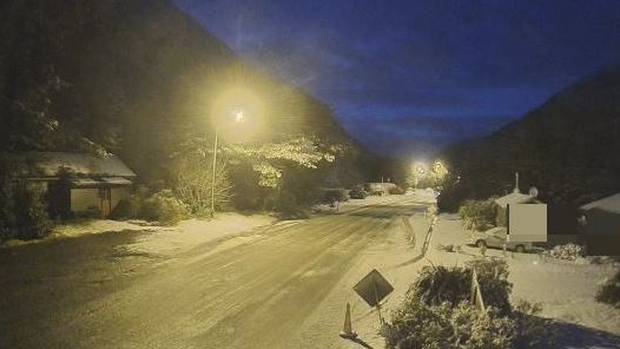 There were also South Island road snow warnings in place for Porters Pass (SH73), Lindis Pass (SH8) and Crown Range Road.
Otago, Southland and Fiordland were under a heavy snow watch this morning, with snow forecast to 500m.
NZTA said heavy rain in the east of the North Island had caused a couple of large slips on Sunday, closing both SH35 at Runaway Bay and SH2 Waimana Gorge.
This week was more of a "typical wintry pattern", Loots said.
"There are a few features, nothing too severe, just a bit unsettled with periods of rain and showers, mostly in the west."
Today western parts of the North Island would see periods of showers, while eastern areas would be mostly fine, Loots said.
In the South Island it would be the opposite with a front moving across from the West Coast this morning.
The West Coast would become fine after rain this morning, before the rain spread in eastern areas from the far south up to Nelson and Marlborough.
The front would spread rain to the lower North Island this afternoon and Taranaki by this evening.
Tomorrow the front would ease, with just some showers remaining in parts of the North Island, predominantly in the west.
On Wednesday another front would arrive in Southland and Fiordland before moving up the country through Thursday and Friday.
"There will be nothing severe, though," Loots said.
Today's weather
Whangārei
Fine spells. One or two afternoon showers. Westerly breezes. 15C high, 5C overnight.
Auckland
​Cloudy periods. A few showers, mainly afternoon. Westerly breezes. 14C high, 7C overnight.
Hamilton
Cloudy periods and a few showers, mainly afternoon. Westerlies dying out in the evening. 14C high, 3C overnight.
Tauranga
Fine, then afternoon cloudy periods with a chance shower. Westerlies dying out in the evening. 14C high, 4C overnight.
New Plymouth
Cloudy periods, and a few showers. Westerlies. 13C high, 6C overnight.
Napier
Fine. Westerlies. 15C high, 1C overnight.
Wellington
Fine at first. Rain developing from midday as strong northerlies change southerly. 12C high, 7C overnight.
Nelson
Chance morning shower, occasional rain from afternoon. Light winds. 11C high, 4C overnight.
Christchurch
Cloudy with showers. Southwesterlies. 10C high, 4C overnight.
Dunedin
Mostly cloudy, with rain at times. Southerlies. 9C high, 5C overnight.