Labour finance spokesman David Parker and Green Party co-leader Russell Normal yesterday continued their auditions to become the finance minister in a future Labour-Green government. Business editor Dene Mackenzie reports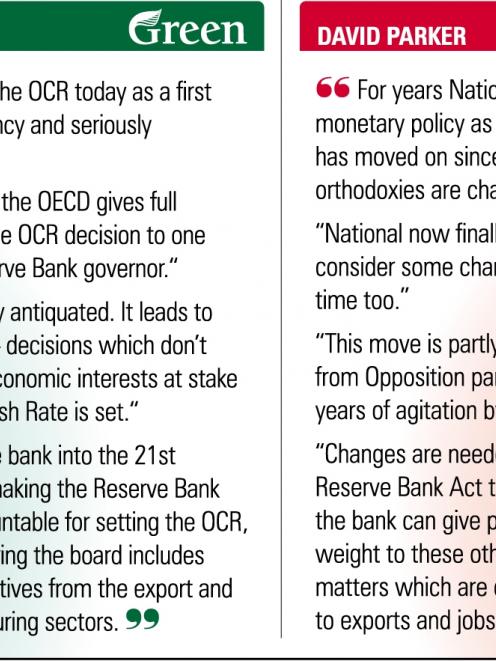 The position of Reserve Bank governor has become more political than ever before, with both Labour and the Green Party calling for changes to the way monetary policy is formed.
Greens co-leader Russel Norman has made no secret that he covets the role of finance minister in a Labour-Green government, despite Labour leader David Shearer ruling out that possibility.
Mr Shearer's favoured finance spokesman, David Parker, should have the inside running to become a future finance minister. However, it is Dr Norman who has been making all the running so far, attacking Finance Minister Bill English, who has been joyfully pointing out that it is Dr Norman, not Mr Parker, asking the hard questions.
Dr Norman got an early hit in by releasing earlier this week a statement calling Reserve Bank governor Graeme Wheeler biased towards Australian banks.
Even though the criticism was not well founded, Dr Norman did force Mr Wheeler to release information requested under the Official Information Act by the Greens.
In his first Monetary Policy Statement yesterday, Mr Wheeler kept the official cash rate at 2.5% and received general praise from economists for his summation of the domestic and global economies.
As expected, Mr Parker and Dr Norman released statements on Mr Wheeler's decision and his assessment of the economies. Mr Parker used his statement to prod the Government to change the Reserve Bank Act. Dr Norman continued to personalise the issue as he renewed his call for wider reform of the Reserve Bank mandate and the way it makes decisions on the OCR.
Mr Parker mentioned Mr Wheeler in his statement, but only in reference to things he had said or acknowledged he was carrying out. He was also more inclined to acknowledge help from other opposition parties in bringing about change.
Dr Norman targeted Mr Wheeler's ability to make the call on the OCR. According to Dr Norman, only the Greens can fix the economy.
If the polls continue to trend higher for both Labour and the Greens, competition between the two aspiring finance ministers will undoubtedly intensify.