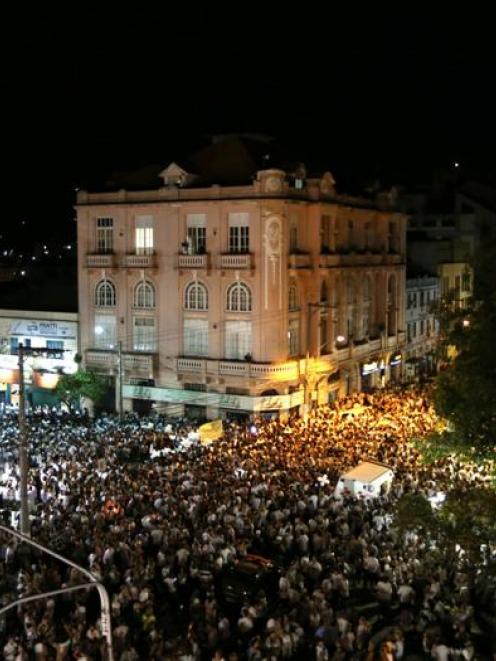 Cities across Brazil are beginning to crack down on nightclubs to ensure they comply with fire regulations following a weekend blaze that killed 231 people at a club in the southern university town of Santa Maria.
The fire was Brazil's deadliest in half a century and resonated across the country, with many people demanding those responsible be prosecuted and that the government tighten up on safety.
Brazilians are outraged at what they see as lax regulation and corrupt officials whose oversights led to the tragedy. There are fears similar fires could happen at other clubs and public venues, especially as the country gears up to host the World Cup of soccer next year and the Olympic Games in 2016.
Sensitivity is also growing because Brazil is in the runup to next month's Carnival celebrations. The event routinely features throngs of unruly revelers in parades and street parties in cities across the country.
As funerals and an official investigation proceed, government officials and lawmakers are scrambling to press for tougher laws. President Dilma Rousseff, who visited grief-torn Santa Maria over the weekend, urged local officials on Monday for more rigor in enforcing safety regulations.
Cities across the country quickly responded.
"We were all evidently shocked by the Santa Maria tragedy," Bosco Saraiva, the acting mayor of Manaus, a city of 2 million people in the Amazon region, said in a telephone interview. "Yesterday we started a total cleanup."
The campaign featured sudden club inspections and city authorities closed 17 because of fire hazards and expired permits. Americana, a city in the southeastern state of Sao Paulo, issued a blanket order on Tuesday for all nightclubs to shut down temporarily while new safety standards are discussed.
Brasilia and other cities including Salvador, Niteroi, Curitiba and Porto Alegre have also deployed inspectors. In Salvador, Brazil's third-biggest city, the mayor ordered the inspection of all entertainment venues, including Carnival installations now being erected.
Still, outrage over the disaster grew, manifesting itself in a march in Santa Maria, across headlines in national newspapers, and in countless critiques in social media.
Cries of "Justice!" rose from a crowd of 15,000 people who marched through the center of Santa Maria on Monday night. Marchers carried flowers to a local gym that has served as a morgue and funeral parlor since the early Sunday fire.
Most of the 231 dead were students suffocated by toxic fumes. Others were trampled as they stampeded toward the sole exit of the "Kiss" nightclub, whose permits were under review.
Witnesses said bouncers initially blocked the exit because they thought fleeing customers were trying to leave without paying for their drinks.
Families of the victims are demanding explanations.
"Somebody has to be responsible," said Elaine Marques Gonçalves, a mother who lost one son in the fire and has another critically injured.
"I will not get my son's life back, but I want the authorities to investigate and act, for the sake of other young people," the devastated woman said in a video interview on the website of the O Estado de S.Paulo newspaper.
Police on Monday detained the owners of the club and two members of the band for questioning. No charges have been filed against the four men, but prosecutors said they could be held for up to five days.
Santa Maria's police chief, Marcelo Arigony, told local television that authorities still do not know how many people were in the club, which the fire department said was authorized to hold up to 700 people, and whether it was over capacity.
He said there was a security camera in the club, but there was no evidence it was working.
Experts say Brazilian safety laws seem sufficient on paper but that enforcement is weak and codes can vary from state to state. Marco Maia, speaker of Brazil's lower house of Congress, on Monday appointed a commission to study the possibility of a single federal law that could unify regulations.
Unless authorities act to tighten inspections on a prolonged basis, however, a change in legislation might not make much difference. As it is, corrupt inspectors sometimes turn a blind eye to violations in exchange for bribes.
"Brazilians think that changing laws will solve everything, but what needs to change is the inspection system," said Claudio Beato Filho, head of a crime and public safety research center at the Federal University of Minas Gerais. Without better enforcement, he said, new laws "will change very little."