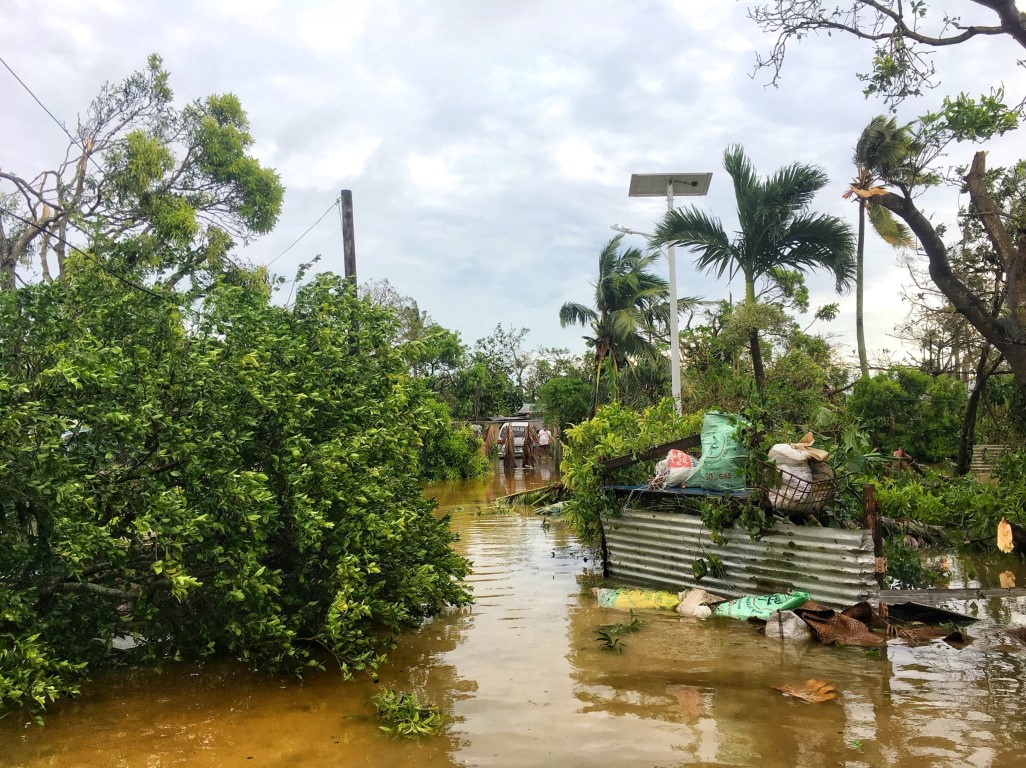 Cyclone Gita is gaining momentum and is now expected to reach the southern islands of Fiji this afternoon as it develops into a Category 5 cyclone.
The last time Fiji experienced a Tropical Cyclone of this magnitude was two years ago, when 44 people died, more than 50,000 people were displaced and scores of schools were destroyed - with a damage bill of more than $NZ2 billion.
The National Disaster Management Office says they have activated their "National Emergency Operations Centre" in the capital to monitor efforts of all relevant authorities.
Director Anare Leweniqila told the Herald the islands of "Ono-I-Lau and Vatoa" were now in the red zone and remained their main priority. These islands are expected to face Category 5 winds from early this afternoon.
A post office, health centre and school have been turned into evacuation centres in Nukuni Village, where villagers are now taking cover on the island of Ono-I-Lau. The highest point on the island is 10m high and villagers here have been urged to remain in the evacuation centres until Cyclone Gita passes over.
Leweniqila says they have made contact with the "Turaga-Ni-Koros", or village heads on "red zone islands" and have cautioned them to fasten their homes or immediately move to higher ground.
Strong winds are already being felt by those in the direct path of Cyclone Gita. The Turaga-Ni-Koro of Nasau, Nabukalevu and Kadavu told the Herald winds were strong and fast picking up.
"We have secured our homes and moved our livestock into shelters. We only hope and pray that the cyclone spares us and does not destroy our village or plantations. Cyclone Winston was terrible and we can now only hope and pray we are saved."
The Fiji Meteorological Service has issued a Hurricane warning in force the two main islands on the trajectory of Cyclone Gita.
At its centre, the cyclone is expected to have average winds up to 195kmh, moving west at about 25kmh.
About 67 coastal communities across Fiji have already been heading to higher ground and preparing for the arrival of severe tropical Cyclone Gita.
The Fiji Meteorological Service has put Ono-i-Lau, Vatoa and the Southern Lau Group on high alert as the cyclone moves towards the group.
Cyclone Gita tore through Tonga overnight, injuring people and destroying buildings with winds gusting up to 280km/h and waves over 11m. Tonga's parliament house is one of the buildings destroyed.
Fiji's Disaster Management Office has arranged to set up 67 evacuation centres in the Lau Group and is expected to activate these centres before night fall, reports the Fiji Broadcasting Corporation.
Commissioner Eastern Luke Moroivalu said villagers "are on preparation mode and perhaps tonight they may move to the community halls, to the evacuations centres, if they feel that they should go up there for preparedness."
Moroivalu adds they are closely "monitoring the situation" and will seek help from the "Fiji Military Forces and the police" if the situation deteriorates.
Schools directly in the path of Cyclone Gita have been ordered to shut down and parents have been advised to keep their children at home for their safety.
All schools on the islands have further been advised to fasten all "loose structures, trim overhanging tree branches and fill and secure water tanks.
The Education Ministry is pleading with families to stock up on emergency supplies and place shutters over windows and doors as Cyclone Gita intensifies over the day.
With heavy rain forecast, the weather office in Fiji has warned of flooding in low-lying areas and advised coastal communities and those close to rivers to take all necessary precautions.
The evacuation centres were in schools and halls, and other areas on high ground.
Fiji Red Cross was preparing supplies and volunteers to head over to assist as soon as the cyclone had passed.
After Cyclone Gita hits Fiji it will track over open water towards New Caledonia and Norfolk Island. It still forecast to grow into a category 5 cyclone.
WeatherWatch has predicted that Cyclone Gita is likely to swing out into the Tasman Sea then curve back around a make a direct hit into New Zealand.
However, it is not known whether it will retain its storm conditions. It could make landfall in New Zealand any time from this Sunday to next Wednesday.