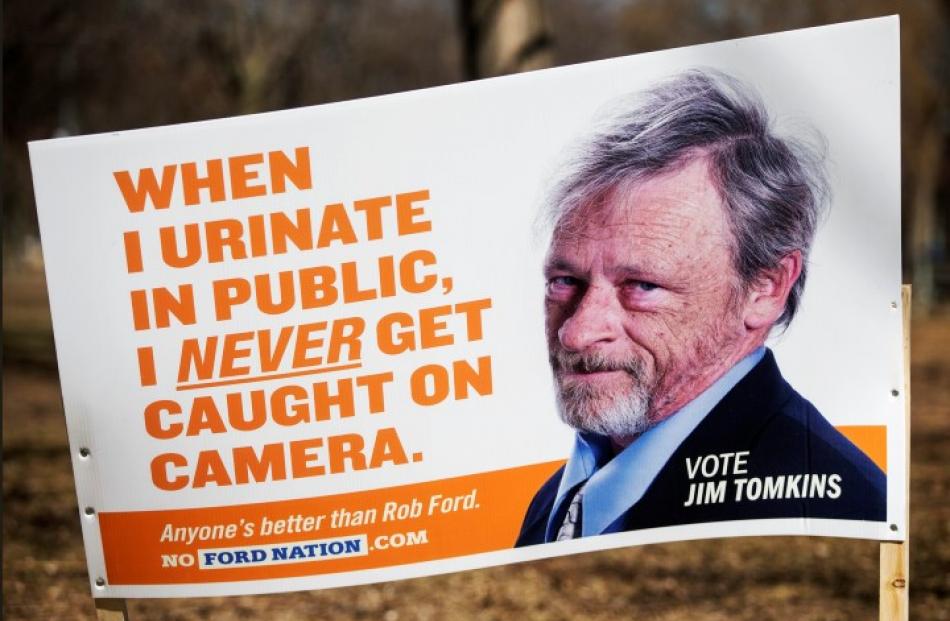 Toronto Mayor Rob Ford has come in for some stick via some spoof road signs put up around the city by a group opposed to his re-election.
The eye-catching road signs for fake candidates use words such as urinate and crack, in reference to the numerous scandals that have propelled Ford into the international spotlight, the Toronto Star reports.
The signs were a collaborative effort between the community group No Ford Nation and Toronto advertising agency Rethink.
"We want to highlight how ridiculous it is that Rob Ford has gotten away with behaviour that most people frown upon, and he still thinks he is the best person to represent our city," No Ford Nation founder Christina Robins said
Over the past year, Ford has admitted to smoking crack cocaine in a drunken stupor, has behaved boorishly in public, spouted profanities on live television and been caught ranting on video.
He is also the subject of an ongoing police investigation in which investigators photographed the mayor urinating in public.
Ford has said he is the best candidate to watch over taxpayer dollars and that his personal life doesn't interfere with his job.