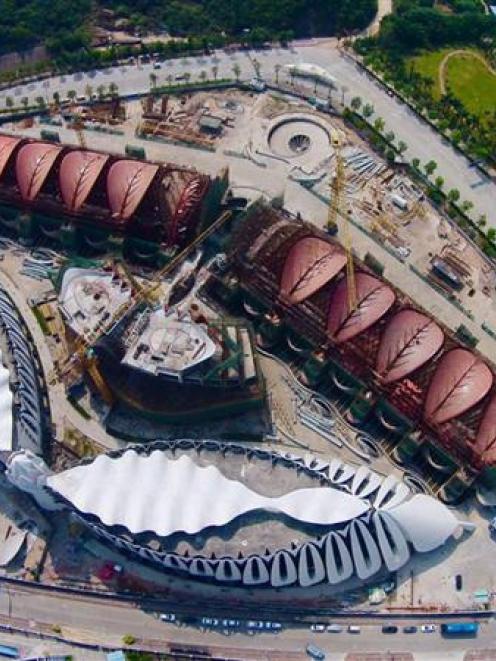 Architecture Van Brandenburg has been invited to stage its exhibition of models ''Unfurling'' in San Francisco.
The models are for the giant complex AVB has designed for Marisfrolg Apparel, a Chinese fashion designer and retailer whose headquarters the building will be, in Shenzhen, not far from the Hong Kong border.
The exhibition was staged at the Venice architecture biennale last year.
In San Francisco, it will be staged at the Rocha Gallery for two months from October 7. I wrote about the exhibition when it was showing in Venice at the Museo Diocesano.
The models were very attractive as they would be anywhere but they will be seen to have undergone a change. Formerly they were mostly white but San Francisco artist Ian Ross is painting them and it will make an eye catching difference.
Ross is a muralist of no mean accomplishment. He is also a painter and a sculptor and makes installations. The images of the latter on his website show highly patterned markings of sand lying by sea waters which it seems clear will be erased when the tide comes in.
They have a limited life, as everything does, but this is much shorter than one expects for the massive forms under construction in Shenzhen.
Ross seems ideally suited to paint the models because the underlying idea of the Marisfrolg design is that its elements' extraordinary shapes and finishes are directly inspired by things in nature.
The building the models were for is a 120,000sqm complex consisting of five main structures. These are to accommodate a factory, administration, design offices, a catwalk, a boutique hotel and a multifunctional event complex.
The architectural practice, which has studios in Dunedin and Queenstown, and whose presiding genius is Fred Van Brandendurg (b.1958), was commissioned to design the complex in 2007. Construction started in 2009 and is continuing.
Images from an overflight by a drone in January this year show it is fairly well advanced. Damien Van Brandenburg, Fred's son who works in the firm with his brother Luca, informed me the exterior is now 70% complete.
It is a phenomenal undertaking and it's hard to believe that a private company would undertake anything like it in New Zealand.
The factory and administration buildings have six floors, one a basement. The plan is oval and there is a ''leaf'' form covering the facade. The top floor is covered by an undulating roof, emulating a jacaranda tree seed pod which has complex curvilinear shapes.
The factory includes a tower. It is conceived as the trunk of a tree while the other factory floors are its leaves. Its roof was inspired by the lotus leaf and intended to represent new growth or ''beginnings''. Its windows resemble bird feathers.
The structures accommodating the fashion design studios and which provide for catwalk productions also have leaf like roofs coloured a pinkish red and an atrium linking to the 50 room hotel.
The atrium and hotel lie below a solarium which provides shade and micro climates for the terraced spaces in this part of the complex.
The event structure is called the ''Clam Building''. It has 5000sq m of floor space. The inspiration for its form is the Tridacna gigas clam, and it was expected to be complete by the end of last year. The site includes gardens and ponds.
The production and administration buildings were completed by September 25, 2013. The complex is varied yet its multiplicity of forms holds together. It is something like an undersea reef encrusted with exotically shaped marine life forms.
I have noted before that Fred Van Brandenburg has said he was inspired to change his whole approach to architecture after seeing Gaudi's Park Guell in Barcelona.
It employs organic and zoomorphic forms and its mosaic decorations too are echoed in the Marisfrolg headquarters but Mr Van Brandenburg's composition is entirely original, more stately and less playful than the Catalan structure.
Photos of some of the interiors, even in their unfinished state, show powerful and dynamic spaces with enfilades of ovoid arches and a magnificent oculus in a coned ceiling allowing sunlight into the interior, diffusing as it spreads into the shades of the coffered chamber below.
It is reminiscent of the Pantheon in Rome which has an unglazed oculus in its massive, unreinforced concrete dome.
The Pantheon was completed about 126 AD and its architect has been problematically identified as Apollodorus of Damascus, although others were responsible for some of its decoration. Whoever designed it, it's a magnificent structure.
The Marisfrolg complex is larger and more various but no less impressive. It is to be hoped two millennia from now its designer's name is better remembered.
Peter Entwisle is a Dunedin curator, historian and writer.