Parliament is currently considering legislation that would ban political waka-jumping. Supporters of the Electoral (Integrity) Amendment Bill claim it is necessary to maintain stable and effective government. Opponents fear it will stifle dissent within parties and make it much harder for new parties with new ideas to enter parliament. As the Bill is currently accepting public submissions to be heard by the Select Committee, it is a good time to take a look back and reflect on New Zealand's greatest waka-jumpers of all time.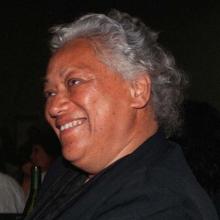 10. Alamein Kopu
Alamein Kopu entered parliament as an Alliance Party list MP in 1996. She drew criticism for her lack of participation in the caucus and for frequently being absent from parliament. In 1997 she quit the Alliance Party, but remained in parliament as an independent. Just days before she quit, she had signed a pledge promising that if she ever left the Alliance she would resign from parliament. Kopu founded the Mana Wahine Party and by becoming a party leader earned an extra $80,000 in parliamentary funding. After Winston Peters and Jenny Shipley fell out, Kopu threw her lot in with Shipley and became a government MP.
Mana Wahine were not able to contest the party vote at the 1999 election because Kopu failed to submit a party list on time. Kopu frequently deflected criticism of her organisational skills and political instincts by claiming her critics were racist, but she was ultimately answerable to her own people, and when she attempted to become the electorate MP for Waiariki she only won 1.7% of the vote and finished behind five other local candidates.
9. John A. Lee
Waka-jumping isn't just a recent phenomenon. Way back in 1940 John A. Lee was expelled from the Labour Party. Dunedin-born Lee was a war hero who literally gave his left arm for his country and was too left-wing for even Michael Joseph Savage. Prime Minister Savage wouldn't let the firebrand in his cabinet, but made him undersecretary for state housing. Lee built more state houses with one hand than former tenant John Key built in his entire political career.
Lee became increasingly frustrated with the Labour Party leadership. He saw them as autocratic for not letting the caucus elect the cabinet and he wanted them to nationalise the Bank of New Zealand. His criticism became more public until one day he went too far. Lee accused a dying Savage of being, "mentally as well as physically ill." Labour expelled him at their 1940 annual conference. Lee set up the Democratic Labour Party with another rebel Labour MP who he soon had a falling out with. At the 1943 election Lee's party won just 4.29% of the vote and he lost his Grey Lynn seat to a Labour candidate by more than 6000 votes.
8. Marilyn Waring
Elected in 1975, Marilyn Waring was an outlier in Rob Muldoon's Third National Government. Aged 23, she was the youngest MP and never had more than one other woman in the caucus with her. She was also opposed to nuclear ships and weapons being brought into New Zealand.
In 1984 she informed the Prime Minister that she would not vote with National on the nuclear-free issue. National only had a one-seat majority so Waring's vote would have allowed nuclear-free legislation to pass. Rather than allow one of his MPs to vote with her conscience, Muldoon called a snap election, which he lost. Waring did not contest the 1984 election.
Waring wasn't a waka-jumper per se as she still promised to support the National Government on confidence and supply. However, if waka-jumping laws had existed back in 1984, there's little doubt that Muldoon would have sacked her.
After politics, Waring wrote If Women Counted, a book that proved very influential in feminist economics. Waring was critical of how GDP was considered the sole measure of progress when it didn't count the value of unpaid work or the cost of environmental destruction.
7= Tau Henare and Tuku Morgan
When Tau Henare failed to get the Alliance Party's endorsement to stand in the Northern Maori seat in 1993 he stood for New Zealand First instead. The great-grandson of a man who had held the electorate for 24 years won the seat and became deputy leader of New Zealand First.
In 1996 New Zealand First won all five Maori electorates. The five MPs in those seats became known as "the tight five". The member for Te Tai Hauauru was Tuku Morgan. The following year Morgan was accused of misusing Aotearoa Television's funds including spending $89 on a pair of underwear. The sheer decadence of such an expensive garment caught the public's imagination and Morgan is still more remembered for that purchase than any other achievement.
New Zealand First's caucus was torn by internal strife and in July 1998 Henare was sacked as deputy party leader. A few weeks later Prime Minister Jenny Shipley sacked Winston Peters from her cabinet. Henare and Morgan left their party to support Shipley's government and eventually formed the Mauri Pacific Party. At the 1999 election both candidates placed third in their electorates and Mauri Pacific only won 0.14% of the party vote.
Henare stood for the National Party in 2002 and was elected to parliament as a list MP in 2005. The former Maori Affairs Minister responsible for the first "Closing the Gaps" report endorsed his new party leader's Orewa Speech on race relations. Henare retired from parliament in 2014.
Morgan became the President of the Maori Party in 2016 and convinced the Maori King to endorse Maori Party candidate Rahui Papa. Papa lost to Labour's Nanaia Mahuta by more than 9000 votes at the 2017 election.
6. Russell Coutts
Russell Coutts was a literal waka-jumper. After steering Team New Zealand to America's Cup victory in 1995 and again in 2000, the skipper and helmsman jumped ship and joined Swiss billionaire Ernesto Bertarelli's Team Alinghi. Much to the chagrin of many New Zealanders who mistakenly believed the competition was about national pride rather than billionaires' egos, Coutts' Alinghi wrested the America's Cup from Team New Zealand in 2003 and took it to Europe.
In 2004 Alinghi changed the rules to prevent anyone from waka-jumping until after the 2007 regatta. Then they fired Coutts. Coutts joined Larry Ellison's BMW Oracle Racing team as CEO for their 2010 challenge and once again was part of an America's Cup winning team.
5= Rod Donald and Jeanette Fitzsimons
Rod Donald and Jeanette Fitzsimons were Green Party members elected to parliament in 1996 as part of the Alliance Party. In 1997 the Greens decided to break away from the Alliance and forge their own destiny. It was a gutsy decision, but it paid off for them. At the 1999 election the Green Party won seven seats with 5.16% of the party vote and Fitzsimons won the Coromandel electorate.
4. Sonny Bill Williams
Love him or loathe him, Sonny Bill Williams has earned fourth place on the list of New Zealand's greatest waka-jumpers for the sheer number of times he has switched teams and codes. Williams started playing professional rugby league for the Canterbury Bulldogs in 2004 when he was just 19 years old. He was a highly 
sought-after player and turned down big overseas offers to stay with the Bulldogs until 2012.
However in mid-2008 he made a sudden switch to French rugby union club Toulon. Coach Tana Umaga taught him how to play as a midfielder. In 2010 Williams returned to New Zealand to play rugby union for Canterbury. He played for the Crusaders in 2011 and the Chiefs and the Panasonic Wild Knights in 2012. In 2013 he returned to rugby league to play for the Sydney Roosters before returning to rugby union to play for Counties the following year. In between changing codes and teams he also had a go at professional boxing. Williams was selected to represent New Zealand in sevens rugby at the 2016 Summer Olympics. Since 2017 he has been playing rugby union for the Blues.
3. Winston Peters
As a key advocate of anti waka-jumping legislation, Winston Peters may not enjoy seeing himself on this list, but he did switch parties at one point. Peters was a cabinet minister in the National Government in 1990, but as he was of the pragmatic and populist wing of the party, he was increasingly at odds with Ruth Richardson's more ideologically driven faction. Peters publicly criticised government decisions until he was sacked from cabinet in 1991. He was expelled from caucus the following year. When it became clear he would not be selected as National's candidate for Tauranga, he resigned from parliament and won the by-election to gain a mandate as an independent MP. As he resigned, he would not have fallen foul of the waka-jumping legislation he is currently supporting. In 1993 he formed the New Zealand First Party which won two electorate seats and 8.4% of the votes at that year's election.
2. Jim Anderton
"I did not leave the Labour Party. The Labour Party left me," Jim Anderton famously recalled. He was unhappy with the economic reforms led by Roger Douglas, and when he refused to vote for the partial privatisation of the Bank of New Zealand (something Labour had promised not to do), he was suspended from caucus. In 1989 he left Labour and formed the NewLabour Party. At the 1990 election Anderton retained his seat and his party won 5.16% of the vote.
The following year NewLabour teamed up with the Greens, the Democrats (formerly Social Credit) and Mana Motuhake to form the Alliance. The Alliance remained in opposition until 1999 when they formed a governing coalition with Labour. Anderton became deputy Prime Minister.
Alliance members became frustrated with the concessions Anderton was making in cooperating with the more moderate Labour Party. The rift caused Anderton to leave and form the Progressive Coalition, but to avoid having to resign from parliament due to the waka-jumping legislation he officially remained in the Alliance Party until parliament was dissolved. At the 2002 election Anderton retained the seat of Wigram and his Progressives won 1.7% of the party vote.
1. The Ingham Twins
In 1997 18-year-old Sarah Ingham fell for a Malaysian sailor who had stopped off in New Zealand. She and her twin sister Joanne stowed away on his ship. The three jumped overboard off the Queensland coast.
Against the odds, they survived the drop from the deck of the ship, the swim through shark and crocodile infested waters, and living for 19 days in the North Queensland wilderness on shellfish before they were found by Aboriginal trackers. They remain New Zealand's greatest ever waka-jumpers.
Public submissions on the Electoral (Integrity) Amendment Bill close on 19 March. To have your say on the Bill you can make a submission at Parliament's website.