An Alexandra businessman's 10-year vision to inject life into the town's main street is finally coming to fruition.
For Rory McLellan, patience is a virtue.
The McLellan's Plumbing & Heating owner and chairman of the Alexandra Miners Village and Riverside Park Trust has spent the past 10 years trying to get the go-ahead and funding for Riverside Park — a multi-purpose development to rejuvenate lower Tarbert St.
Those efforts have paid off with the announcement stage one of the development is one of the community projects to be funded as part of the Central Otago District Council (CODC) long-term plan.
The CODC allocated $650,000, from 2021 until 2024 for first stage development which would include geotechnical sampling, consent applications and the detailed design and development of a community greenspace area.
According to the 2021-31 plan, dubbed "Framing Our Future", which was finalised by the council on June 30, there was "strong community support for the project".
Recurring themes in comments were it would revitalise the area and there was a lot of potential for how it could be developed in the future once "the canvas is set".
The project was originally supported by the Vincent Community Board and CODC councillors agreed to the board's recommendation to proceed with the preferred option in the consultation document.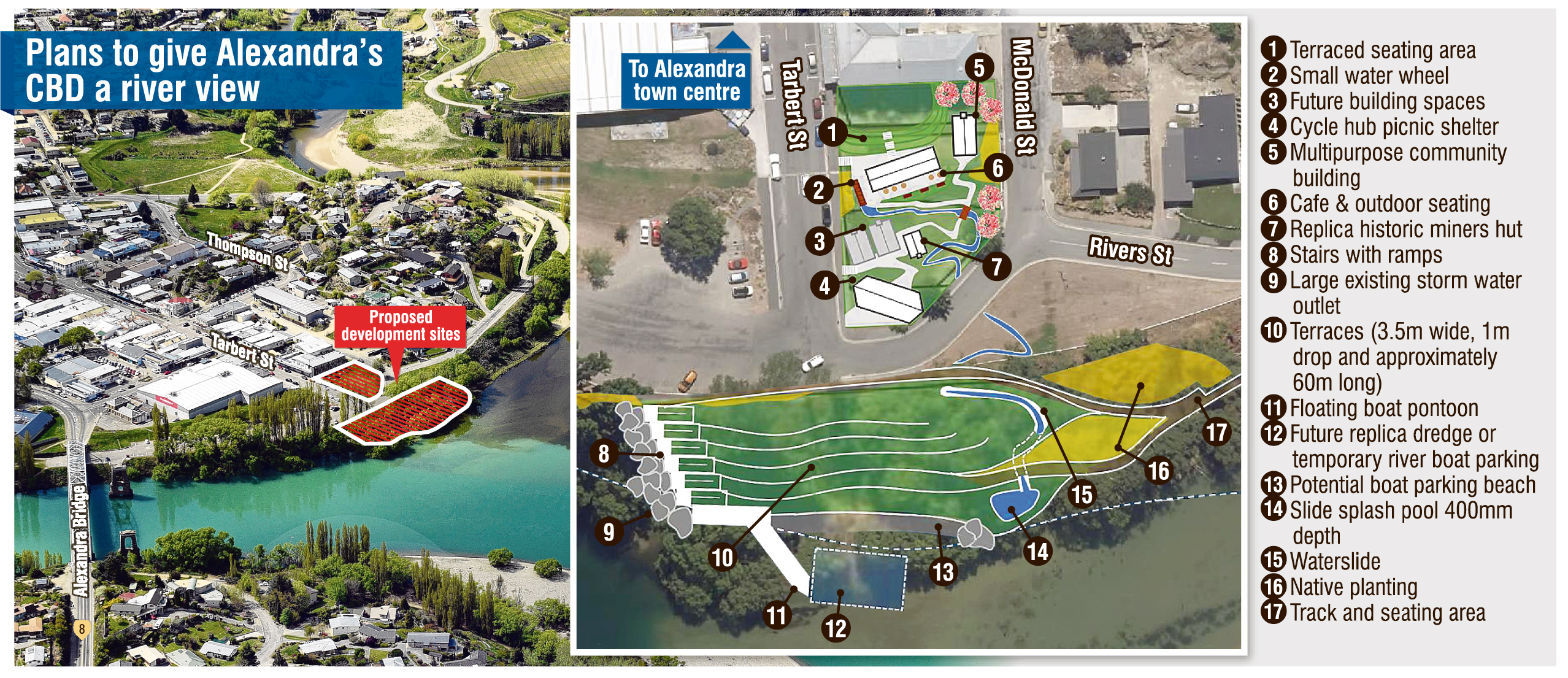 Stage one encompasses the space beyond the intersection of Tarbert and Rivers Sts and runs down to the Clutha River.
Stage two would take in the vacant land beside the Criterion Club Hotel, also known as the "Middle Pub", and bordered by Tarbert, Rivers and McDonald Sts but how that would be developed was yet to be decided.
Mr McLellan said it had been "a long road".
"It's really exciting to get to this point of getting confirmed council funding," he said.
"It means we have the expertise to roll out the project and it shows potential funders we have community backing."
Mr McLellan started promoting the idea of opening up and developing the south end of Tarbert St in 2011.
He commissioned concept plans for a riverside park with a heritage element, possibly relating to the Chinese goldminers camp site situated on the land in the 1860s, and in 2017 he formed the trust to further drive the idea.
The trust and the Vincent Community Board funded a business case assessment which was overwhelmingly supportive of the project.
Feedback also highlighted that although the heritage goldmining aspect was of interest, the community was keen that the development delivered an attractive riverside space and precinct that would be a hub for a range of recreational activities.
"We took this on board and that's why we've targeted the greenspace area as the first stage of development."
The plans for stage one would be developed in collaboration with the CODC and the Riverside Trust.
"Were also keen for community feedback on suggestions for inclusion."