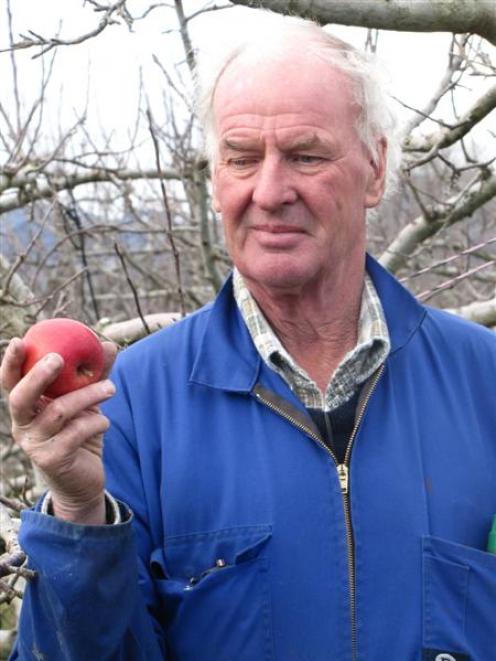 After 90 years, the wait is over for New Zealand apple growers and our apples could be on Australian supermarket shelves by the end of this week.
The Otago Daily Times understands several consignments of apples from Hawkes Bay packhouses have been prepared and an Auckland-based Australian inspector is expected to look at the apples today.
If they meet the requirements, they could be air-freighted to Australia within days.
Biosecurity Australia yesterday released a final list of protocols clearing the way for New Zealand apple exports.
Growers said they were not too different from regulations they already faced from other importers.
"We are confident we can ensure that fruit going to Australia will meet the quarantine requirements. Other countries we supply already have equally stringent requirements and we meet those," Pipfruit New Zealand director and Ettrick apple grower Stephen Darling said.
One of Central Otago's biggest growers and packhouse operator Con van der Voort said: "I think we can live with it because we are already under strict protocols.
I guarantee Australia won't get fireblight from the apples we export."
The protocols include. -
• Audits of packhouses by Biosecurity Australia before supply.
• Documentation at every level, to ensure a supply chain trace-back system from orchard to arrival in Australia.
• Use of high-pressure water washers and sanitisation of water dumps in packhouses.
• Screening processes to ensure that apples are mature.
• Specific pest and disease control measures.
Four packhouses have already passed the audits and are qualified to pack fruit for Australia.
Mr Darling said he expected New Zealand to begin exporting this year but did not expect large volumes initially.
"It's more a matter of dipping the toe in the water before the whole foot," John Webb, a third generation Cromwell orchardist said.
"Providing the market is entered into in a controlled way, it could be a good market that will build up over time."
Mr van der Voort said he was not considering exporting apples to Australia this year.
"It has been decided to go slow and sell only high-quality produce. It would be irresponsible to flood the market.
"We are quite optimistic because it is a new market but we don't know how we are going to be received."
Mr Webb said the first step would be to gain the acceptance of the Australian population. Some Australian supermarkets had said they would not stock New Zealand apples.
"We are going into a market that is already occupied by Aussie growers, so we either take their sales or get Aussies to consume more."
Pipfruit New Zealand chairman Ian Palmer said: "Their per capita consumption is half that of New Zealand."
Jazz and Pacific Rose, which Mr Webb grows, are likely to be the big earners in the Australian market as they "are not grown in any great quantities" there, he said.
"But we will just wait to see what the practicalities of export are and see what the market does.""Australia is one of several new market opportunities, along with India and China which will improve the outlook for New Zealand apples," Mr Darling said.
Pipfruit New Zealand chief executive Peter Beaven said growers were always confident science would prevail.
"Mature, symptomless apples do not pose a risk to the Australian industry and that has at last been accepted by the Australian Government and officials."
The long-running apple access dispute between New Zealand and Australia culminated in a three-year legal dispute involving the World Trade Organisation, that was finally settled on appeal, in New Zealand's favour, in November last year.