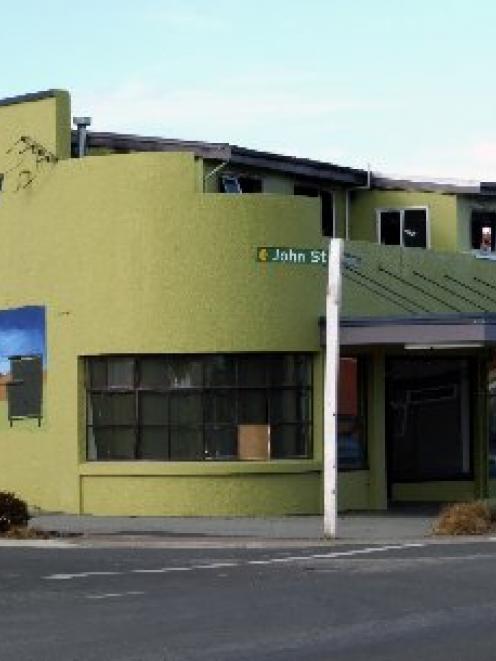 The fire-damaged art deco building in Ranfurly's main street is likely to be restored and used for some commercial venture.
The majority of people at a public meeting in the town this week, supported moves to retain the Ranfurly Auto building.
About 50 people attended and Rural Art Deco Maniototo chairwoman Diane Paterson said a wide range of views were aired at the meeting and the art deco group believed it had been given a mandate to continue with its plans.
"There were some dissenting voices, but more positive voices than negative and we believe generally we've got great support to continue."
About 80% of those at the meeting wanted the building to remain and to be utilised, she said.
The distinctive curved 1950s building, owned by Dick and Janet Parker, was extensively damaged by fire on March 8.
It housed two companies, Ranfurly Auto and Ranfurly Bike Hire, as well as the couple's apartment home.
The Parkers decided against rebuilding and were happy for the art deco group to carry out a feasibility study on the site.
The group would now proceed with more detailed costings on restoring the office and showroom in the building and retaining the facade, which was all salvageable, Ms Paterson said.
"At this stage we're looking at doing something a little different, involving community ownership of the site, and developing it as a commercial operation so it pays its way," she said.
Although she did not want to disclose the preliminary estimates for restoring the building, the art deco committee believed the costs were "manageable".
Various avenues of funding would be explored and it would not be a drain on ratepayers.
"We'd like to hear from any potential tenants of the building or anyone with ideas for commercial ventures for that site, because that's the key.
"It's got to be commercially viable."
"We feel that, done properly, this development could be the stimulus needed in Ranfurly to capitalise on the opportunities offered through the Otago Central Rail Trail."
When cost estimates were finalised, the public would be consulted again, Ms Paterson said.
"I think it's important for Ranfurly.
"Our art deco heritage is important to our economy, brings in visitors, and gives us a reason to be in the headlines, with our annual art deco festival."
Project Maniototo community and economic development co-ordinator Amie Pont said there was great support for the building to be retained, and lots of ideas were generated at the meeting.