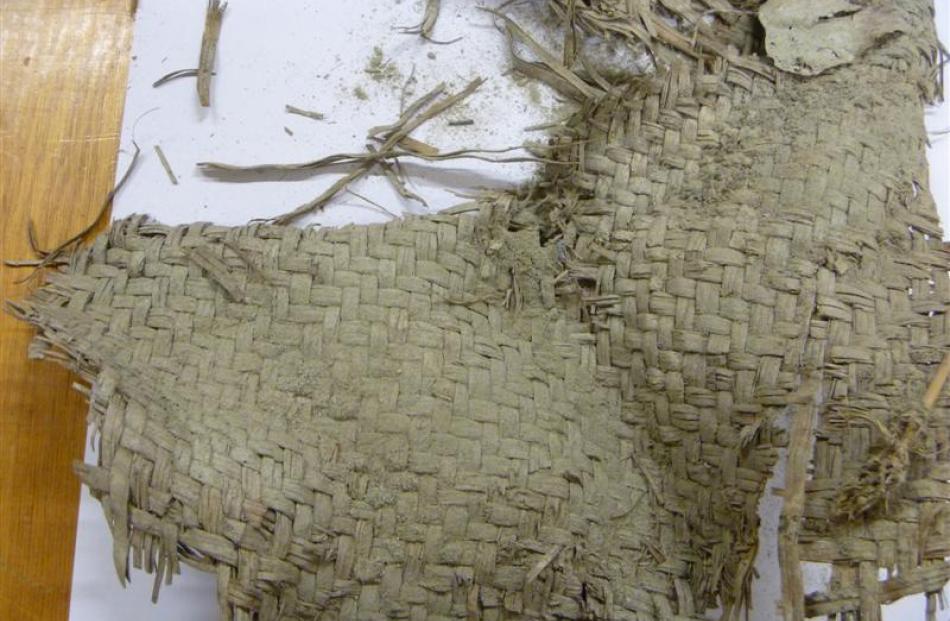 A collection of historic artefacts, including what is thought to be a fragment of a Maori sleeping mat or food bag, have been removed from the Roxburgh Gorge by Department of Conservation (Doc) staff.
Doc community relations ranger Jacob Dexter said they spent two days earlier this month going through all the rock shelters on crown land in the gorge "looking for anything that could potentially be important".
He said the flax was found in a shelter that was "clearly European", of stacked stone construction, and though they did not know the history of the hut, the flax appeared to be "of Maori weave" and the position in the hut "indicated it could be a sleeping mat or food bag, but we are not sure because it is only a fragment".
In addition to the flax textile, the team found bits of European cloth, some tartan, some bottles and moa bones.
With the exception of the moa bones, all the items were found inside huts.
The artefacts were identified during an archaeological assessment of the gorge done as a requirement of resource consent for the Roxburgh Gorge cycle trail.
The assessment was carried out by Southern Pacific Archaeological Research (Spar) and reviewed by Doc archaeologist Shar Briden and the New Zealand Historic Places Trust (NZHPT).
Ms Briden made recommendations that the artefacts be "removed and deposited suitably to remove any possible future effects of pilfering," Mr Dexter said.
Before the items were removed, photos were taken of them in situ. They were then placed in plastic bags.
The items are now in a controlled-climate room at Alexandra's Central Stories Museum, awaiting professional advice and evaluation.
Central Stories administrator Shani Redmile said they would first be assessed to see if they were suitable for the museum's collection.
NZHPT regional archaeologist Matt Schmidt said it was important for people creating tracks through heritage areas to get archaeological assessments and work with NZHPT, Doc and iwi.
He said this was a good example of that, and it was also good the items were "recovered professionally".
At a press conference earlier this week, cycle trail trust member and president of the museum board Malcolm Macpherson said the trail was a great opportunity to show off the huts through the gorge and the history of Central Otago.
He said the gorge contained some of the best-preserved heritage in the country but people had not been able to get there and the cycle trail was a way to get those stories told.
The assessment by Spar identified 31 archaeological sites along the true right side of the gorge, where the trail will be constructed, between Alexandra and Doctors Point.
It said the majority of the sites would be unaffected by construction of the cycle trail.
NZHPT granted archaeological authority for the trail in May with 14 conditions, including that the trail trust and contractors continue to work with and advise NZHPT during the construction process.