For Maniototo wood carver Luke Anthony, carving some of New Zealand's  birds from homegrown timber is a combination of local ingredients and a longtime passion. Central Otago reporter Adam Burns dropped into his Ranfurly workshop.
It is hard to envision anyone more in tune with native birds than Luke Anthony.
For about 10 years, the Ranfurly resident has carved life-sized bird sculptures from native wood.
He has a prolific collection of bird books which he refers to constantly during his sculpting preparation.
Mr Anthony uses mostly totara for his sculptures but also rimu, matai, southern rata, kauri and native broadleaf.
He recovers the timber from numerous locations, including old fenceposts and building renovation sites.
"Totara is synonymous with carving in New Zealand.
"It holds detail really well. It's crisp and it's a really nice looking wood."
The 44-year old has built up a varied collection of feathered friends.
As a youngster, he was fascinated by fighter jet models, although he believed he was no good at woodwork at school.
He was later influenced by Bob Ridges' Decoy Ducks following regular trips to the library.
Initially focused on water colour painting, Mr Anthony had a brief stint studying graphic design.
He secured a job at Canterbury museum after he cold-called them, and they offered him a position a week later.
Working at the museum gave him access to the resources to build his creative knowledge base.
He would eventually dabble in wood carving.
Realising he could apply the frameworks of Ridges' work, he explored the concept of bird sculptures.
"The bird thing really intrigued me."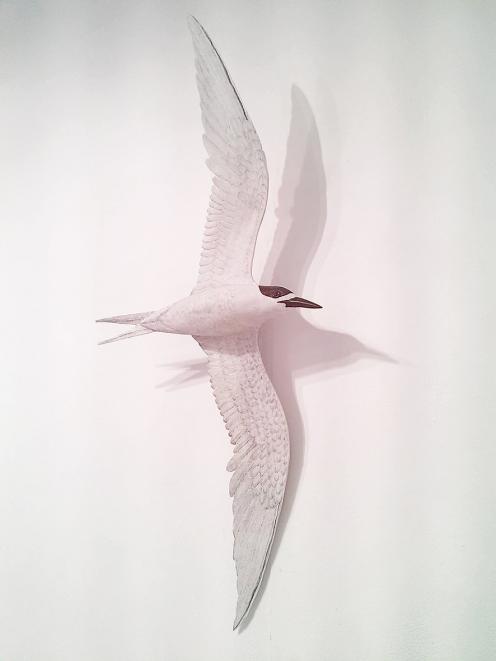 He was also inspired by the works of New Zealand bird painter Raymond Ching.
"He's always been a hero of mine.
"I aspire to be the Raymond Ching of carving. I don't know if I'll get there."
Mr Anthony plans and researches his subjects meticulously before using an electric band-saw to "rough out" the shape of his creations. He then paints the birds using fine acrylics.
The detail in his sculptures is a distinction he has built his reputation on.
The Central Otago surroundings resonated with him during trips from Canterbury when he was growing up.
He relocated to the area 12 years ago and now calls the Maniototo home.
"It felt more like coming home into Central Otago, into a place I hadn't had much experience with. I wanted to explore that feeling and I haven't regretted it."
Alongside Southland's Athol Gallery and Hokitika's Wilderness Gallery, Mr Anthony has sent his birds around the world, including to Britain, the United States, Italy and France.
Two of his most enduring clients are a retired couple from the UK to whom he has supplied six birds.
"I call them my groupies," he jokes.
"Last time they travelled to New Zealand I invited them to stay for a few nights in their camper van."
At present, he is working on a pair of "love birds" for a married couple in India.
Although there is plenty of goodwill abroad for his works, he admits that most of his clients are Kiwis.
"It kind of surprised me. But you can't underestimate New Zealanders' love of birds. I think it's something that has been cultivated from a young age - the fact our birds are unique and amazing."
The sporadic nature of an income as a self-employed creative is naturally a factor Mr Anthony has to manage.
He also works part-time at the Ranfurly service station to ensure things do not get too tight financially.
"An artist's income is like a roller-coaster. It is not a steady thing."
"A part-time job helps level out the highs and lows."
His work is another piece of a thriving and supportive art community in the area where the likes of painters Grahame Sydney, of St Bathans and Julie Grieg, of Patearoa have also set up shop.
Bigger, more conceptual showcases of his work is something he aspires to, although he acknowledges it could be around "three years of solid work".
Transitioning from birds perched to birds in flight is another goal as he looks ahead.