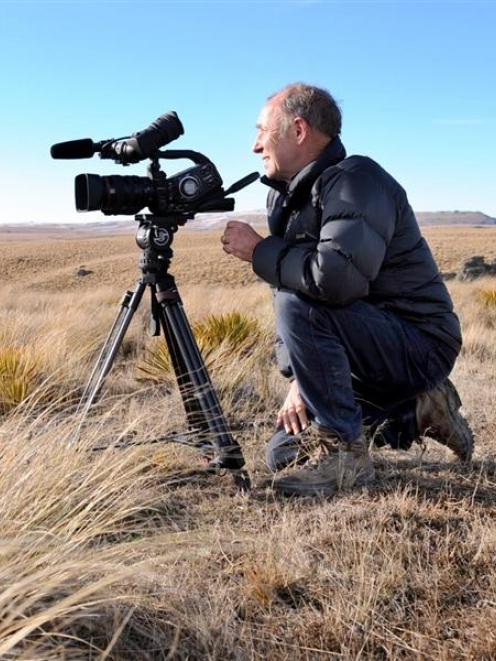 The risk of contracting hypothermia during Central Otago's winter has not deterred artist-turned-film maker Grahame Sydney from his latest goal.
The Cambrian Valley resident is waiting for one last "fantastic" snowstorm to hit the Lammermoor Range, where the subject of his feature-length documentary lies.
El Dorado: The Old Dunstan Track is a story of Old Dunstan Rd and the people who first traversed its uncompromising environment more than 100 years ago.
"In the 1860s, when early gold miners walked the track, they were wet, cold, and starving to death most of the time.
"They made very little money and just wanted to get home . . . it was nothing like the romantic notion people often have," he said.
The documentary is his three-year labour of love, passion and fascination for the road's secret-laden history, the details of which will be narrated on film by eight different voices.
Sydney is using material from a diary written by an early gold miner, who updated it every Sunday, and portrays the era's hardship.
"I've always loved the gold history of Otago. It's fantastically interesting. We will be quoting personal first-hand narratives quite extensively."
Sydney started the documentary in 2005 and has spent upwards of 50 days on top of the Lammermoor Range and over the Old Dunstan Rd gathering footage from all seasons.
"The gold rush that precipitated this started in August and it was in the middle of winter when they [gold miners] had to walk into something they didn't know anything about.
"Nature provided nothing - no food, no trees to burn wood," he said.
He learnt exactly how harsh it can be when he was caught in a snowstorm while filming, and suffered mild hypothermia.
"I was quite worried for a while . . . it was a good taste of what must have happened constantly," he said.
Sydney wrote the film script and is aiming for a "typically Sydney" quality in the work.
"I want the documentary to look like what only I can do, if there's such a thing. It is a landscape too few New Zealanders know about and I want to shock them with the surreal beauty of it on screen."
After filming is finished, in the next two months, it will be edited in Melbourne, where Sydney's musician daughter will produce the film's score.
"We hope it will be complete in summer or autumn, and will probably cut it into two or three lengths so it can be used for television," he said.
To complement the documentary, Sydney is also working on a book, for which he is gathering photographs from archives throughout New Zealand.
El Dorado is the first of many films he hopes to make.