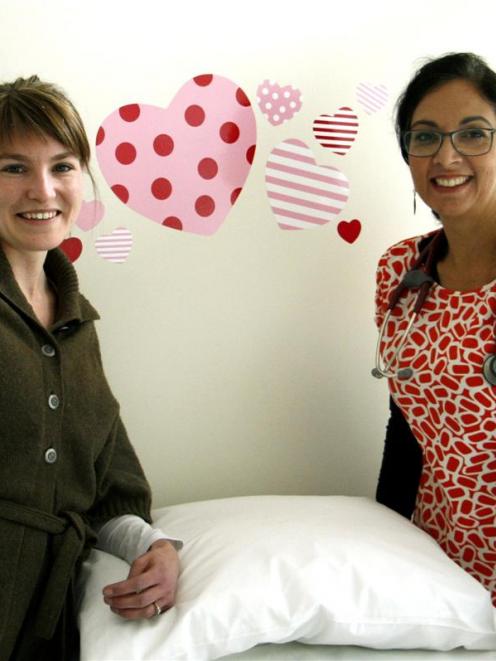 An Alexandra doctor and midwife are delivering an ''innovative'' and ''collaborative'' approach to maternity care in Central Otago.
General practitioner Dr Pragati Gautama and midwife Charlotte Aarden have combined forces to provide antenatal and postnatal maternity care services based in Alexandra.
''I see ourselves as being quite a collaborative model where we have a midwife with a nursing background being the team leader,'' Dr Gautama said. The venture was innovative, community focused, and patient driven, she said.
''For the client it creates a lot of continuity, so there's no gaps because they are already known by their GP. They know their background, so not just the pregnancy and obstetrics, but also the mental wellbeing of the client and the family set up,'' Ms Aarden said.
Ms Aarden would be the primary maternity lead carer while Dr Gautama would ''back her up'' and could be there if she was not available.
The partnership also means if Dr Gautama was not available, other doctors at the Cromwell Medical Centre, where she was based, would be on hand to help.
It was probably 15 years ago since GPs were involved with maternity care in Central Otago, Dr Gautama said. Legislation changes in the 1990s meant midwives were able to care independently as lead maternity carers.
Rural Faculty of New Zealand College of GPs chairman Jo Scott Jones said the funding model had changed and no longer funded the role the doctor had at delivery.
He said there were a few GPs who were lead carers but the partnership was not ''terribly common'' in rural parts of the country.
New Zealand Rural GP Network chairwoman Sharon Hansen said she was always pleased to see midwives working in ''teams'' with GPs, and congratulated the pair on the ''unusual'' arrangement. Ministry of Health principal maternity adviser Bronwen Pelvin said there were 28 GPs the ministry was aware of nationally who were acting as lead maternity carers.
''Midwives who provide services in rural areas often have arrangements with local GPs in terms of support in emergencies.
''The Ministry's expectation is that lead maternity carers will have a good collaborative relationship with local GPs and other health services.
''It is important to note that in cases of major complications during pregnancy and childbirth, a woman will be transferred to the nearest secondary, or tertiary, level care i.e. a hospital with an obstetrician and other specialist services.''
Ms Aarden said the choice of birthing place was up to the client but most of them were at Queen Mary hospital in Dunedin, as well as Charlotte Jean maternity hospital in Alexandra.
Dr Gautama, who had two daughters, grew up in London where she became a doctor, and has worked in Central Otago for almost 20 years and has also spent two years in rural Papua New Guinea.
Ms Aarden also has a young child and has been working as a midwife in Central Otago since 2008, after emigrating to New Zealand with her husband. They both said they had worked together on and off over the years but decided to formalise the partnership after seeing a lack of continuity between primary care and midwifery.
While what they were doing was not usual, they were simply ''reinventing the wheel'', and opening up the care of the patient to a ''team approach'', Dr Gautama said.